24 Traditional Quilt Patterns and Quilt Blocks
If you love classic quilt patterns, then you don't want to miss our list of traditional quilt ideas!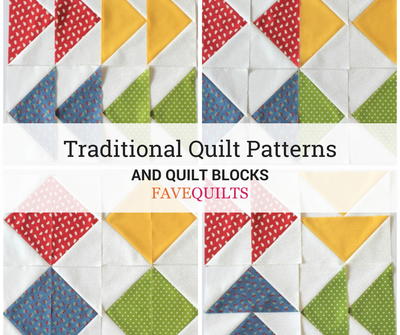 While you can find a ton of different types of quilts these days, the best free quilt patterns are often the ones that remind you of the original quilters. Making vintage quilts with more traditional quilt blocks and traditional quilt patterns can really help you add a homey and old school look to any space.

Whether you are sewing a bed quilt or making a wall hanging from quilt patterns, free patterns like the ones in this collection can really give your home some history.

Many of us learned how to quilt from our grandmothers and come from a long line of quilting women and men. Why not honor the great, beautiful tradition and art of quilting by using one of these traditional quilt patterns to make a quilt that harkens back to the golden years of quilting? Traditional quilts are just as stunning and lovely as their modern counterparts.

There are hundreds of ways and patterns to make vintage quilts. Since quilting is traditional at its very core, many of the quilt block patterns you use every day lend themselves to creating traditional quilt patterns. Traditional and vintage patterns often look just like other quilt patterns with a hint of back-in-the-day.

Whether you choose to add a pop of color to a vintage quilt pattern or make your traditional quilt patterns as homey as possible with more subtle hues, these free quilt patterns are going to the top of your to-quilt list. They're that dazzling.

For more great projects like this, subscribe to our free email newsletter!
Table of Contents
Your Recently Viewed Projects