54 Simply Stunning Strip Quilt Patterns
You'll love this collection of strip quilting patterns!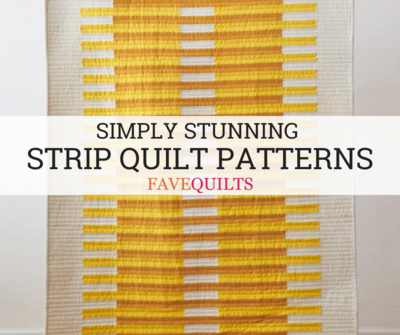 Whether you have strips of scrap fabric or bundles of jelly rolls on hand, a strip quilting project is a quick and easy way to use up all of those fabric strips! To make this collection easier to navigate, these strip quilts are divided into sections of beginner patterns, bargello quilt patterns, strip quilt blocks, home decor patterns, and throws and lap quilts!

We have a wide variety of strip quilting patterns for you, including log cabin blocks, string quilting quilts, chevron designs, and more! Whether you are looking for a practical quilted coasters project or a fanciful DIY wall hanging, we have all of the projects for you in a range of styles from eclectic to elegant.

No matter what kind of tutorial you are searching for, you are bound to find your new favorite quilting project here in this collection.

Sign Up For More Free Quilt Patterns

Plus! Don't miss our video tutorial for How to Strip Quilt! It's perfect for beginners. 
Table of Contents
Beginner Strip Quilt Patterns
Since strip quilts are simply rows of fabric stitched together, they are one of our favorite techniques for new quilters. That's why we are starting off today's collection with our favorite beginner strip quilt patterns. These simple projects are fun, quick, and perfect for beginner-level quilters.

Whether you are looking for an easy pattern or something quick and precut-friendly, this protion of today's list will have exactly the pattern for you!

The Simple Striped Quilt Pattern is made even easier by its use of wide strips of fabric, which helps to cut down on production time. In fact, this easy pattern can be completed in only 3-4 hours! Who doesn't love a free quilt pattern that is quick and easy?

Choose your favorite beginner-level strip quilt pattern from one of these tried and true editor favorites today!
Beautiful Bargello Quilting Patterns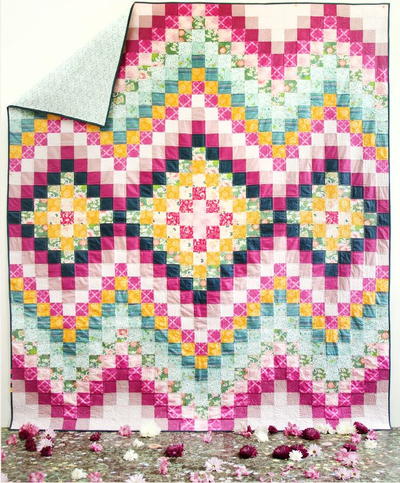 Looking for a mesmerizing and colorful quilt pattern? Bargello quilt patterns are a stunning option! Bargello quilt patterns are easier than they look, and these examples are no exception. Create a quilt that will add a truly mesmerizing effect to your bedroom when you make The Spontaneous Strip Quilt Pattern. Or try making one of these other beautiful bargello quilting patterns for a uniquely incredible design!

Quilting the Desert Sunset Wall Quilt will add an artistic splash of color to any wall while the Rain Drops Bargello Quilt Tutorial makes a peaceful and calming quilt. No matter which one you choose, any of these gorgeous quilting projects will be the centerpiece of any room.
Strip Quilting Block Patterns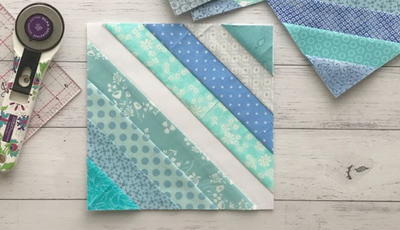 Strip quilting is a wonderful technique if you are looking for simple and creative options for a quilt block pattern. Many of our favorite block patterns use strip quilting methods, and we'eve collected a great assortment for you to browse. From string blocks to log cabin blocks, these quilt block patterns all share one thing in common: they're made from strips of fabric!
Home Decor Strip Quilting Projects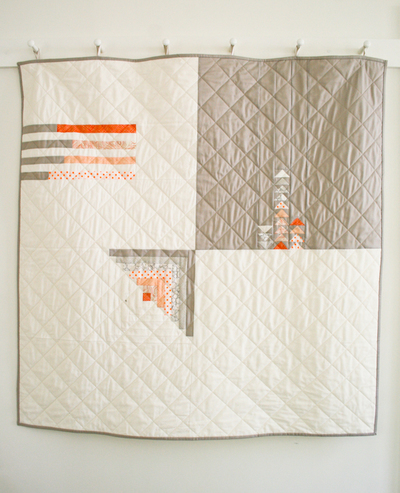 Here we have a variety of quilting projects picked just for you. Decorating your home with quilted creations has never been easier or more on-trend than it is today. 

If you have a blank wall in need of a touch of pacthwork style, try quilting the simple reader-favorite, Quilter's Four Square Quilt.

If you're looking for a more practical option, try any one of our kitchen decor quilting projects, like the Breakfast Bargello Placemat or a table runner.

This wholesome selection of strip quilting home decor is the very best place to start making unique and handmade pieces for your living space.
Throw and Lap Strip Quilt Patterns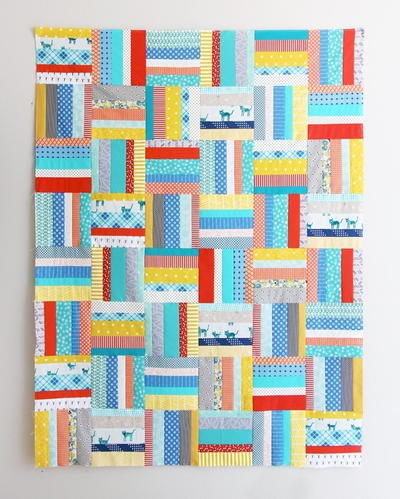 You will love this eclectic mix of lap and throw quilts. Each pattern has a distinct style, with no two being the same!

For a contemporary design, try quilting the Rainbow Rail Fence Quilt Tutorial. If you love artistic and abstract designs, then the Waffle Cone Quilt Pattern will capture your heart.

Our beginner pick from this selection of throw-sized quilt patterns is the Early Bird Strip Quilt Pattern! You can use a variety of scraps from your craft closet or sewing room to create this cozy strip quilt pattern in just one night!

No matter what style you're looking for, we have the perfect quilt here for you. 
Your Recently Viewed Projects