36 Free Flying Geese Quilt Block Patterns
Let your imagination take flight with these gorgeous flying geese patterns!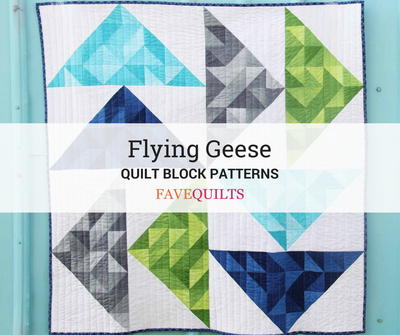 Reminiscent of that distant "V" many quilters have seen high overhead during the tail end of fall, these 36 Quilt Block Patterns for Flying Geese Quilts offer a myriad of unique and creative takes on this beloved half square triangle quilt pattern.

You can make Flying Geese Quilt blocks using a number of methods, including piecing, paper piecing, and half square triangle paper quilt blocks, just to name a few. And with the list below, you can even discover how you can make Flying Geese without cutting triangles at all. 

Though the Flying Geese quilt is not notorious for being particularly scrap-friendly, the beauty of these types of quilt blocks and the Flying Geese technique is there are many ways to go about creating them that leave very little - if any - scraps once all is said and done.

These No waste tutorials are among those included in this list of Flying Geese quilt block projects below. After all, what's good for the goose is good for the gander, so we encourage you to try your hand at these fun, fabric-saving projects during your downtime, and let your creativity soar with these Flying Geese Quilt Patterns.

PLUS! Learn even more about flying geese with this tutorial for how to make a basic flying geese quilt block. From tutorials to history and everything else you need to know, this is the quintessential flying geese page.
Table of Contents
Your Recently Viewed Projects