15 Traditional Irish Chain Quilt Patterns
Journey to the shores of the Emerald Isle with this collection of beautiful free quilt patterns and tutorials for how to make an Irish chain quilt.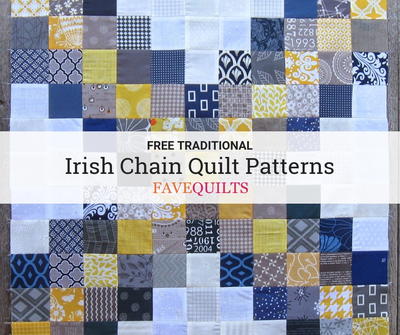 Irish chain quilt patterns all share a common technique and look, but no two Irish chain quilts are the same. These stunning, traditional quilting patterns combine several techniques all quilters use to create designs that resemble the classic designs of Celtic crosses and chains. These lovely patterns and templates range from easy, beginner quilt block patterns to more complicated and intermediate full quilt patterns.

Known for their diagonal designs, excellent piecework,and brilliant uses of color, the Irish chain quilt designs in this collection will easily wow even the most experienced quilter. Whether you are looking to create a new bed quilt pattern for your boudoir or want to hang a new quilt in your home for some Celtic flair, these free quilt patterns and block patterns will do the trick. Check out our collection of 15 Irish Chain Quilt Patterns: Free Traditional Quilt Patterns, and you just might find your next quilting endeavor.

Irish chain quilts come in a variety of designs and are often named after the number of chains present in the design. Single Irish chain quilts are perfect for beginners, while more experienced quilters or those looking for a challenge may enjoy the piecework involved in the more intricate double Irish chain quilt patterns and triple Irish chain designs. We have a variety of these quilts listed below, assuring that no matter your skill level, you will find a chain pieced quilt to fit your needs. 

One of the best things about an Irish chain quilt pattern is that there is often a handy amount of white space left on the quilt, making these free quilt patterns the perfect template to use if you enjoy adding embroidery, needlework, or applique designs to finished quilts. Truly versatile and always gorgeous, the Irish chain quilt is a design that every quilting enthusiast should have in his or her arsenal.

Plus, if you're new to quilting, don't miss our video on How to Make a Nine Patch Block.
Table of Contents
Irish Chain Quilt Patterns
Whether you want to add a snuggly quilt to your living room to relax under while watching television or need a bigger, warmer bed quilt pattern to sleep tight under every night, Irish chain quilt patterns will do the trick. These traditional quilt patterns utilize the cozy, country comfort of traditional quilting to create quilts that are perfect for your home. Each lovely in their own way, the free quilting patterns below make excellent weekend projects.
Irish Chain Piecing Block Patterns
If you are not quite ready to commit to creating an entire Irish chain quilt, check out one of these block patterns for quilting. These gorgeous block designs and quilt block templates use the Irish chain piecing technique on a smaller scale. Combine these blocks to make a full-sized quilt or use them to create a pillow sham or other small quilted project.
Your Recently Viewed Projects