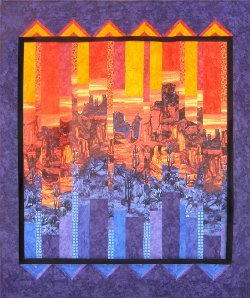 The Desert Sunset Wall Quilt proves that you can still do piecework when making panel quilts. Slice up a Desert Nite panel and add purple and orange fabrics for a fiery quilt that incorporates the most beautiful colors of the desert. Wall quilts made with this pattern will give a Southwest feel to any room. You can find the specific fabric codes before the instructions to get the right colors and prints for this gorgeous quilt pattern. The abstract yet artsy quilt pattern will really pop on a plain wall. 

This was one of our most popular projects from 2012. See our collection of the 100 Best Quilt Patterns for Free for other reader favorites!

Note: This quilt finishes at 42 inches by 50 inches.
Fabrics Used in This Pattern
Note: This quilt is designed using fabrics from Michael Miller Fabrics. Fabrics are coded in materials list.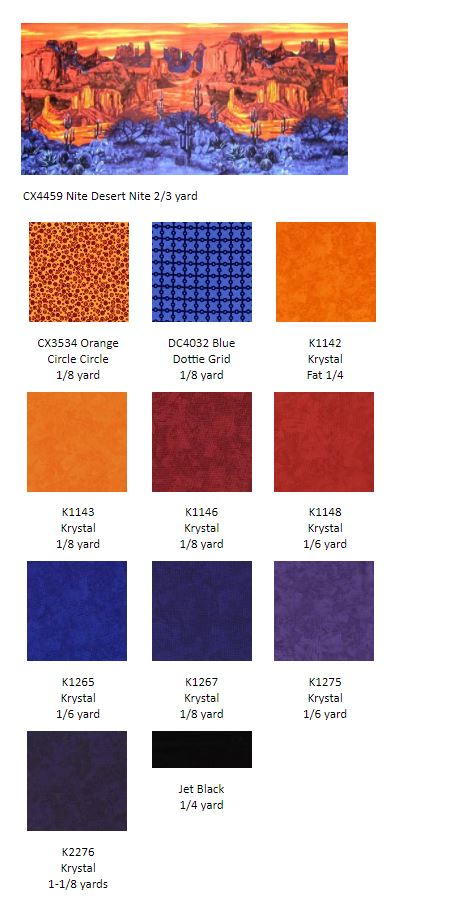 Materials Needed: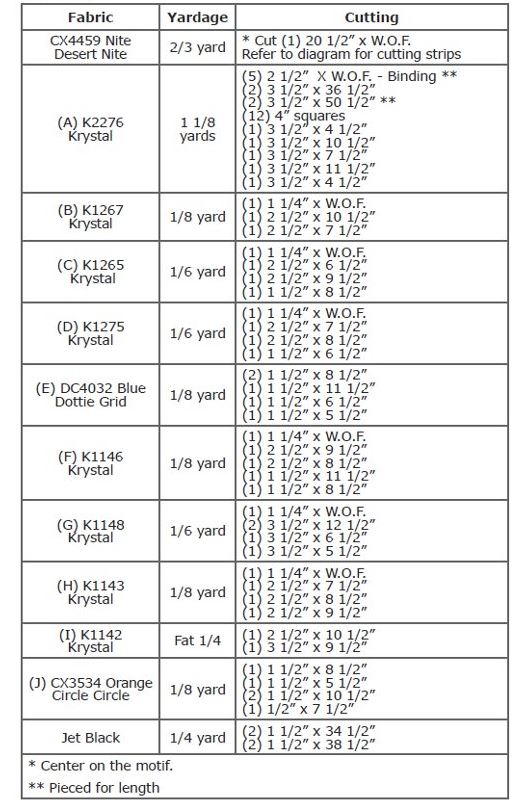 Additional Materials Needed:
*  46" x 54" backing
*  46" x 54" batting
*  Threads to match
*  Straight pins
*  Scissors
*  Acrylic ruler
*  Rotary cutter
*  Cutting mat
*  OPTIONAL: Masking tape
Piecing Instructions:
1.  Refer to the cutting diagram below and cut CX4459 into 1-1/2", 2 1/2", and 3-1/2" strips following the diagram. Cut the strips in order 1 to 18. It's helpful to number each strip with a small piece of masking tape to keep the sequence in order.

2.  To assemble the quilt top - follow the placement guide. Sew "C" - 6-1/2" piece to the bottom of row 1. Sew "I" - 10-1/2" piece to the top. Repeat for each row across the quilt. Each row is 36 1/2" long.

3.  Sew rows together in sequence to complete the bargello quilt top. Finished piece is 34-1/2" X 36-1/2". Remove masking tape if used.

4.  Sew Jet Black 34-1/2" strip to the top and bottom of the quilt. Sew Jet Black 38-1/2" strip to each side.

5.  For the top border - sew K1146, K1148, K1143 1-1/4" strips together lengthwise. Cut (12) right square triangles from the strip inverting every other point. Cut (6) K2276 4" squares in half diagonally to make (12) right square triangles. Sew one K2276 and one striped triangle together to make one square. Trim to an accurate 3-1/2" square. Make (12) total.

6.  Sew together as shown to make zigzag border. Sew to the top of the quilt.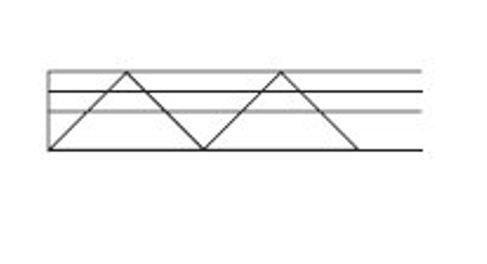 7.  Repeat Step #5 for the bottom border using K1267, K1265, K1275 for the stripes. Sew completed border to the bottom of the quilt.

8.  Sew K2276 36-1/2" piece to the top and bottom of the quilt. Sew K2276 pieced for length 50-1/2" strips to each side. Layer backing, batting, and quilt top. Baste.

9.  Quilt as desired.

10.  Bind using K2276 pieced as needed for length.
Diagram:
We love the combination of oranges and purples in this quilt pattern. What's your favorite color combo? Let us know below in the comments!
Your Recently Viewed Projects