10 Trendy Ombre Quilt Patterns
Liven up your home, from the nursery to the bedroom, with these brilliant, vibrant, and free ombre quilt patterns!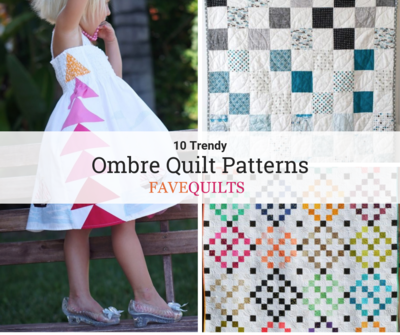 When you think of a quilt, you probably think of classic, antique country designs. However, your quilts don't have to be relics of the past. Bring your quilting style into the 21st century by learning how to make an ombre quilt, and your home decor will look as smart as it ever has!

Colorful, eye-catching, and vibrant, these ombre quilt ideas are just what any chic room needs. They're also a godsend when it comes to color-matching. You'll never have to worry about perfectly matching color swatches ever again when you try out one of these nifty ombre quilts. Instead, just choose one central hue, and you're guaranteed to include the perfect shade in your design.

This DIY quilt pattern collection has a classy pattern for any purpose. Whether you need a baby shower gift, a new bedspread, a girl's dress, or a single quilt block, this list has an ultramodern design for you. Even better, they are easy enough for any beginner quiltmaker to try out.

If you go ga-ga for color gradients, then you've come to the right place. It's never been so simple to keep your quilt patterns up to date than with these free ombre quilt tutorials. The best part? All of these patterns are absolutely free! Save some money while you give your home a trendy update.
Table of Contents
Modern Baby Quilt Patterns
Even mommies can be chic when they have the proper patterns at their disposal. Give your nursery a voguish update with these darling and designer DIY baby quilt patterns! These quilts would also make gorgeous gifts for any baby shower. The best part? You never have to worry if you included the right color to match the recipient's nursery decor. This is a gift idea that's guaranteed to please both the pickiest room decorator and the snuggliest bundle of joy.
One Day Ombre Baby Quilt Tutorial
Charm the booties off your bouncing bundle of joy with this pleasing ombre baby quilt. Say goodbye to frustrating shade-matching. With this ombre design, you're sure to have the perfect color for your baby's nursery.
Dutch Ombre Baby Quilt Tutorial
No one can refuse the simple elegance of a geometric quilt pattern. Now you can bring this nifty design to your baby with this free baby quilt pattern. Made from half-square swatches, this geometric design is intricate and breathtaking.
You don't have to sacrifice a single shade of your favorite hue when you sew up this piece-of-cake baby quilt. In a single weekend, you can create a DIY quilt that will make any nursery room look equally elegant and charming.
Modern Ombre Diamonds Baby Quilt
Who says that baby quilts can't be vogue? Bring designer vibes to your nursery with this triangle-patterned ombre baby quilt pattern. Bold black accents are fabulous with a baby pink background.
Make a simple geometric design come to life with color with this 66'' x 82'' beauty. Whether you use it as a twin-sized bedspread or a lap quilt, you'll snuggle up in style with this rainbow-colored statement piece.
Quilt Accessories & Clothes
Quilts aren't just for cuddling with in bed. With these ultra-hip quilt accessory patterns, you can show off your quilting expertise anywhere from your daughter's playdate to the grocery store. Look like a runway model anywhere you go with these smart designs that will compliment any fashion style, from a sweet girl-next-door look to vogue trendsetter.
Add a pop of brilliant color to your little girl's wardrobe with this flying geese pattern sundress, perfect for sunny weather. Your daughter will love swirling the full skirt of this quilted dress, designed for a beauty queen.
Quilt Block Ideas
Sometimes the best quilt patterns come in small packages. These DIY quilt block ideas are the perfect building blocks for any project you can imagine, like bedspreads, dresses, and even tapestries. Customize your ideal ombre design from these elemental, exquisite patterns, and you're guaranteed to adore the ravishing result. Who can resist these gradient beauties?
You've certainly heard of paint chip art—it's one of the hottest decorating trends this year—so why not bring this chic trend to your quilting, too? With many shades of one color, this sewn piece is guaranteed to match your decor.
Into the Sunset Flying Geese Block
Add a fresh vibrancy to a quilting classic with this easy quilt block pattern. No matter what colors you include or whether you turn it into a baby blanket or into a full-sized bedspread, you'll fall head over heels for this sophisticated design.
What is your favorite color to use for ombre designs? Let us know below in the comments!
Your Recently Viewed Projects