10 Eye-Catching Herringbone Quilt Patterns
Find your favorite herringbone quilt pattern in this stunning list!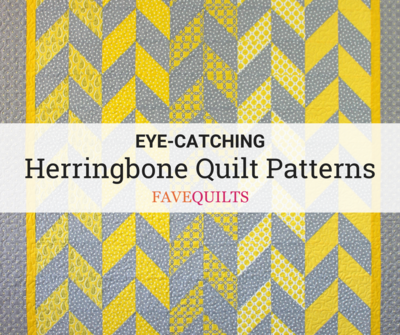 One of the most recent trends in quilting is the rise in popularity of the herringbone pattern. Similar to its cousin the chevron, herringbone is a striking pattern that focuses on straight lines and diagonals to creates a design that resembles the bones of a herring, a fish found in Northern oceans. Herringbone patterns and prints have been popular for centuries and can be found in architecture, textiles, and now quilts!

If you've had your eye on some trendy herringbone quilt patterns, then rest easy, because FaveQuilts is laying out our favorite eye-catching herringbone designs, just for readers like you.

These quick and easy herringbone patterns are perfect for using pre-cuts, especially layer cakes, and are great projects for beginner quilters. If you're nervous about putting together a full-size quilt, don't worry because we've made sure to include smaller quilting projects, like table runners and baby quilts, as well. Several of these herringbone patterns are also excellent quilt as you go patterns, meaning you don't have to spend a ton of time drafting and assembling complicated patterns. Choose your favorite of these eye-catching herringbone quilt patterns and let your creativity soar!
Table of Contents
Easy Herringbone Quilt Patterns
From bright and colorful to subtle and elegant, there's a herringbone quilt pattern out there for everyone! FaveQuilts has included full quilt patterns that are perfect for bed covers and stylish throws, as well as smaller projects like quilt block patterns and table runners. Just choose your favorite from our list of herringbone patterns and start on your brand new quilt project. Here's wishing you happy quilting!
Small Herringbone Quilt Projects
Herringbone Quilt Patterns and Tutorials
Did You Know?
1.  Herringbone patterns date back to ancient times and can be found in the textiles and jewelry of the ancient Egyptian elite.

2.  Modern herringbone patterns date back to the Roman Empire and were used in road paving systems.

3.  In textiles, herringbone is usually defined as a variant of twill fabric. When the fabric is being made, the twilling will periodically become reversed, resulting in the herringbone pattern.

4.  It is said that the Shroud of Turin has a herringbone pattern.

5.  Herringbone is also popular in Ireland and historically was used by the Celts in horsehair cloth.

6.  Modern herringbone print is often found in menswear, typically on high-end suits.
Which of these herringbone quilts is your favorite? Let us know below in the comments!
Your Recently Viewed Projects