Chris from made by ChrissieD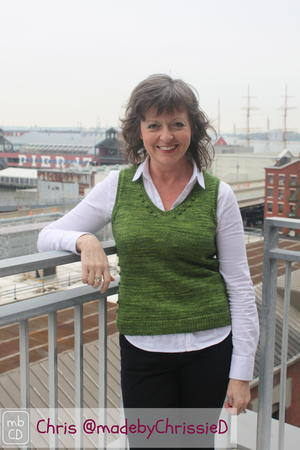 Hi, I'm Chris - the person behind the brand made by ChrissieD and I'd like to tell you a little bit about myself.

Growing up in the north of England in the 1960s I've always been crafty - learning knitting, crocheting plus sewing from a very young age. I have a foundation degree in Art & Design specialising in ceramics. In England, I had my own interior design business concentrating on children's bedrooms, decorative murals, designing home cinemas and entertainment suites.

Moving to the States in August 2011, I discovered quilting, which led in April 2012 to creating the made by ChrissieD brand. On my blog, I share my work, knowledge, tips and tutes alongside info such as where to shop in NYC, stories about all the wonderful fabric stores I visit and feature people I meet on my worldwide travels!

Over the last five years I've been a Bernina Sales/Quilt Store Assistant in Manhattan, NYC moving on to teach quilting/sewing classes privately as well as in stores around the city. Pattern design/writing for quilting magazines and fabric companies keeps me busy too in addition to being a member of the Modern Quilt Guild, NYC Metro MOD Quilt Guild and also the Quilt Alliance.

I live in Manhattan's backyard on the Hudson Riverfront with my husband, Simon and our two dogs; were happy empty nesters since our children have grown and gone off on their own adventures. In my spare time, I love being Grandma to our Grandson, Oliver and visiting our children in their homes around the world.

Links
Website
Blog
Facebook
Instagram
Pinterest
Twitter
Ravelry

Projects and Tutorials on FaveQuilts
Your Recently Viewed Projects