45 Free Star Quilt Patterns
You can never go wrong with a classic! These traditional star quilt patterns are truly timeless. This page also features unexpected and modern star quilt ideas.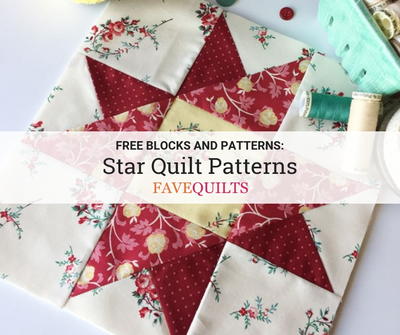 Star quilt patterns are the quintessential patchwork quilt designs. They are incredibly versatile and fairly easy to piece. Check out our list of 45 Free Star Quilt Patterns for free block designs and quilt ideas for all the star quilting tutorials you'll ever need!

New quilters can get started with star quilt patterns for beginners, while more advanced quilters can try one of the more complex and creative star quilt block patterns that are sure to make any quilt shine.

Besides the free star quilt patterns, we will go over What is a Star Quilt? and other variations of the pattern. If you like traditional quilt blocks and patterns or enjoy combining traditional with modern styles, then you are going to love all of the quilt ideas found in this collection.

One of the most creative, simple, and bright quilt patterns, the star design is a must-make for most quilters. The free patterns below offer a huge variety of interpretations of the classic star (along with many traditional blocks and quilts you will adore as well).

Plus!
Don't miss our video on
how to make a basic star block
. It even shows you how to create a pretty DIY quilted pillow! Follow along with our friend Carolina Moore by clicking play on the video right below!
Table of Contents
Your Recently Viewed Projects