35+ Snuggly Free Rag Quilt Patterns
Wrap yourself up in comfort this winter with these free rag quilt patterns!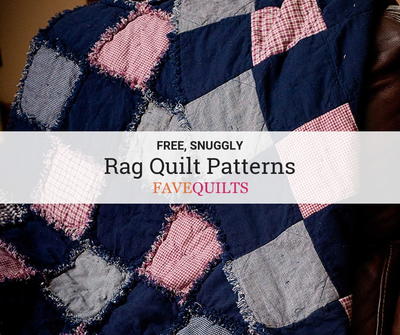 Once you learn how to make rag quilts, you won't be able to stop! These frayed quilts are so easy to make, you'll get addicted after your first one. Check out our list of Snuggly Free Rag Quilt Patterns to get new ideas for your next quilt.

Rag quilt patterns are different from regular quilt patterns in several aspects. First of all, they employ a quilt-as-you-go method, meaning that each piece of fabric is sandwiched with its batting and backing before being stitched to the surrounding pieces. The technique that makes rag quilting unique from other quilting methods is the purposeful fraying of exposed seams. This gives rag quilts their characteristic ruffled or "raggedy" appearance.

Their snuggly seams and durability make them wonderful baby quilts, but rag quilting can also be used to create rustic accessories and decorations.
Table of Contents
Which of these rag quilts is your favorite? Let us know below in the comments!
Your Recently Viewed Projects