Quilt Sizes for Beds + 10 Bed Quilt Patterns
learn how to select the best quilt sizes to make for and fit your bed.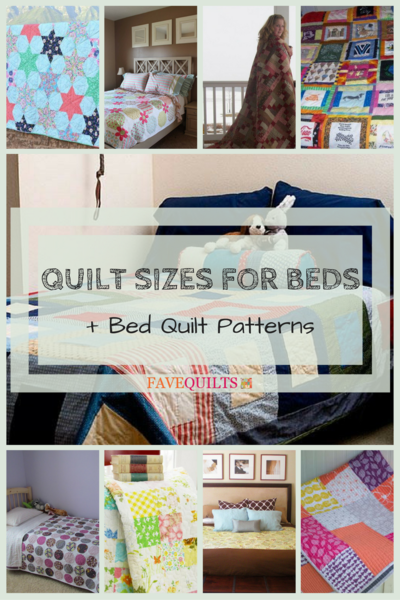 When making your own homemade custom quilt, it can be a challenge to determine standard quilt sizes and how to make it so that it fits your bed nicely. When creativity strikes and you find yourself in the crafting mood, it's not always easy to switch gears and get mathematics involved by taking measurements of your bed.

You do, however, want your finished product to fit your bed and look amazing! So how do you do this without having to crunch too many numbers? Our Quilt Sizes for Beds + 10 Bed Quilt Patterns which includes a quilt size chart along with tips can help.

Take a look at these helpful hints and guidelines below if you are wondering how to select the best quilt size to fit your bed. Below you'll find approximate U.S. measurements (quilt sizes in inches) of various bed sizes for determining the appropriate quilt size.

The measurements in the quilt sizes chart will provide you with the knowledge of something like a 14-16-inch side drop and a 10-11-inch bottom drop for your quilt. Of course, these measurements can all be adjusted to fit your personal preference. Mattress sizes vary and measurements can be adjusted to fit the look that you desire for your quilt.
 
Table of Contents
Quilt Sizes Chart
Mattress Size
(W x L)
Quilt Size
Twin
39" x 75"
68" x 86"
Double
54" x 75"
86" x 86"
Queen
60" x 80"
90" x 90"
King
76" x 80"
100" x 90"
Oversize
72" x 84"
105" x 95"
Tips on Choosing Bed Quilt Sizes
When determining the size to make your quilt, it's important to measure not just the length and width of your mattress, but the depth, as well. This will help determine how much overhang you will have.

Some bed quilt patterns give you the flexibility to manipulate the quilts around on your bed (turn 90 degrees, for example) if you need to adjust the overhang. However, some patterns, such as centered medallions or borders along the top edges, are designed to fit very specific mattress sizes.

Although there are standard quilt sizes, these are merely guidelines to follow for determining your quilt size. The quilt size you need is all dependent on the look you are going for.

If you are looking to create a more elegant look, it is often recommended to make your quilts one size larger so that the sides drop to the floor; smaller side drops are typically more informal.

If you would like to add extra inches at the bottom of your quilt, but you've already finished quilting, there's an easy fix! Simply pull your quilted work of art down a few inches from the top of your bed and fill the empty space with decorative throw pillows and shams.

Throw pillows are also an easy way to add a decorative touch to any room of your house. Plus, they can be quickly switched out whenever you feel like changing things up a bit. They are a great way to instantly (and easily!) transform the look of any room without a long-term commitment.
 
The most important thing to keep in mind when making custom homemade quilts is to have fun and be creative!
Free Bed Quilt Patterns
Take a look at these quilt patterns for different sized beds and find one that works for you. Of course, many of these include adjustments for smaller or larger bed sizes, so you can choose any you desire. It's a great way to add another touch of love to your bedrooms.

Rustic Duvet Cover for a King Sized BedAlthough this is one of the simplest bed quilt patterns out there, the rustic-looking print is sure to make your bedroom look and feel cozy. Follow this tutorial if you want to learn how to make a king sized bed quilt for someone else or for your own bed.
Sleeping on Squares Bed QuiltThe simple square in a square pattern has a simple look that complements different room designs, and it's a design that both boys and girls will like in their favorite colors. Quilters who are making a bed quilt pattern for the first time will be able to work on their piecing with results that you'll be proud to show off.
Counting Stars Bed Quilt TutorialThis DIY bed quilt has step-by-step images to walk you through the cutting and piecing process, so that you don't have to worry about any guesswork. This star quilt is perfect for showing off your prettiest printed fabric, and is a great way to wrap yourself up in comfort.
Make Scrappy T-shirt Quilts to use up your old t-shirts and your leftover quilting scraps. Each t-shirt block is bordered with fabric strips from your stash to colorfully frame your t-shirts. This quilt is quick-turned and tied for easy construction!
Robbing Peter To Pay Paul Quilt from Leisure ArtsThe consistency throughout the design within this handmade quilt harmoniously compliments the strong contrasting colors in each block. Use your favorite prints to create this charming bedspread for any room in the house.
Spring in Scandinavia Vintage Sheet QuiltGive your next quilt some old world charm and save some money on your fabric budget with this sweet and simple quilt inspiration. This Spring in Scandinavia Vintage Sheet Quilt is a simple quilt project that's incredibly beginner friendly and can be made in just a few days.
Twin Size Circle QuiltIt can be hard to find twin size quilt patterns to make for children's beds, guest beds and college bunks. This Twin Size Circle Quilt pattern uses an old CD to create an appliqued quilt that you can easily customize for different bedrooms.
Curl up, relax, and enjoy a steaming mug of your favorite hot drink this holiday season in this opulent Peppermint Mocha Chain Quilt. Though this winter quilting pattern may look complicated, this project is surprisingly easy to make—you can whip this quilt up in a weekend and luxuriate in front of a roaring fire in plush comfort.
Verna's Layer Cake QuiltLearn how to make a quilt that makes the perfect queen bedspread when you check out this fabulously floral free quilting pattern. Whether you are creating this quilt for your guest bedroom or you own bed, the piecing and applique are sure to add the perfect amount of pretty and cozy to the space.
Fizzy Fat Quarter QuiltA truly modern quilt pattern with beginner instructions, this gorgeous idea looks stunning in bright fat quarters. If you want to make something a little more traditional, try neutral fabrics and prints.
Your Recently Viewed Projects