21 Free Rail Fence Quilt Patterns
Take traditional strip quilting to the next level with this list of free rail fence quilt patterns that are perfect for beginner quilters.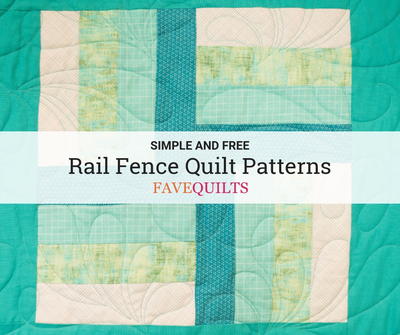 Rail fence quilt patterns make fantastic quilt patterns for beginners because they are insanely simple to put together and can be used to create quilts of all shapes and sizes. Whether you are looking for picnic quilt patterns or just new quilt blocks to try out, there is a rail fence quilt pattern that will fit your particular need. Perfect for scraps or pre-cuts, these lovely quilt patterns show off intricate piecework while looking much more complicated than they truly are, ensuring that you will have a gorgeous quilt without the stress of too much finagling with cutting and sewing. Especially easy to estimate when it comes to yardage, inexperienced quilters will enjoy the ease of choosing and cutting fabrics for these quilts. 21 Rail Fence Quilt Patterns & Rail Fence Quilt Blocks contains out best rail fence quilt blocks and free quilting patterns.

Rail fence quilts are created by combining strips of fabric to make quilt blocks that are then pieced together in a myriad of ways to create quilts that leave a lasting impression. Rail fence patterns, like the ones below, often play up the uniform looking of rectangles in their designs, working to show off the color or prints of the fabric. Usually consisting of quilt blocks that are made of four quadrants of 2 strips of fabric, these quilts require a lot of cutting, measuring, and sewing, but the process is simple as it is all straight lines.

Plus, don't miss our video tutorial on how to make a Rail Fence Block Pattern. It's one part of our Block of the Month video series!
Table of Contents
Rail Fence Quilt Patterns
These full quilt patterns are the best and brightest rail fence quilt patterns and tutorials we have on our site. These stunning full quilt patterns range from baby quilt ideas to bed quilt designs. No matter what size quilt you decide the create, the rail fence quilt will be a delight to construct.
Rail Fence Quilt Blocks
The best thing about rail fence quilt block patterns is that these patterns make it very easy to create your own quilting designs. Made entirely out of quilt strips, these block patterns could easily be combined to create quilts you will adore. Just create a handful of these quilt blocks to make the quilt of your choice. They would make fantastic small quilting projects, as well.
Other Rail Fence Quilt Projects
Rail fence patterns are not exclusively used to create traditional quilt sizes or patterns. Perfect for simple scrapbusting ideas, rail fence quilt designs make the perfect table runners and picnic quilt patterns. Check out this out of the ordinary quilt patterns.
Your Recently Viewed Projects