38 Free Log Cabin Quilt Patterns
Log cabin quilt layouts have a timeless charm you'll fall in love with.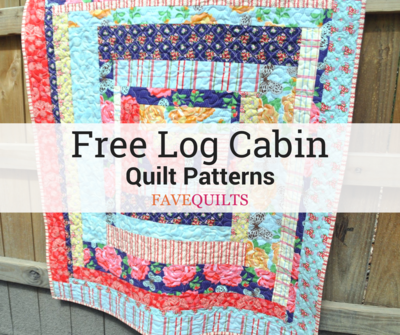 Log cabin quilt designs are always a favorite with beginning quilters and expert quilters alike. The simple piecework of log cabin quilt layouts has a timeless charm that lends itself to endless log cabin quilt designs. Explore the possibilities with our list of 38 Free Log Cabin Quilt Patterns.

If there's anything you want to have in your quilting skill set, it's a knowledge of log cabin quilt designs. The simplest log cabin quilt pattern, which consists of strips pieced around a center square successively until you have a block the size you want, is easy to sew and makes for colorful quilts. After mastering this basic technique, you can use different colors in strategic parts of your blocks!

What is a Log Cabin Quilt?

If you're new to quilting, one of the first types of quilt patterns that you're likely to encounter is the log cabin. But what is a log cabin quilt? A log cabin quilt, or log cabin quilt block, is one of the most popular traditional quilt patterns and is pieced together using strips of fabric, with a small square at the center of the block.

Log cabin quilt patterns are a staple in American quilting, and first rose to popularity during the time of the Civil War. Traditional log cabin quilts typically use a red center square, meant to symbolize the hearth of a home, and are often associated with the pioneer movement of the 1800s. Log cabin quilts were also used to symbolize stops on the Underground Railroad.

Log cabin quilts and quilt blocks are typically very easy and quick to make, given their use of strip piecing techniques. They work very well with scrap fabric, and present a natural way to play with color value in quilt design.

Want more? Sign up for our free FaveQuilts Piecing it Together newsletter to get our latest patterns and tutorials!
Table of Contents
Your Recently Viewed Projects