Hello, Ollie Fabric Collection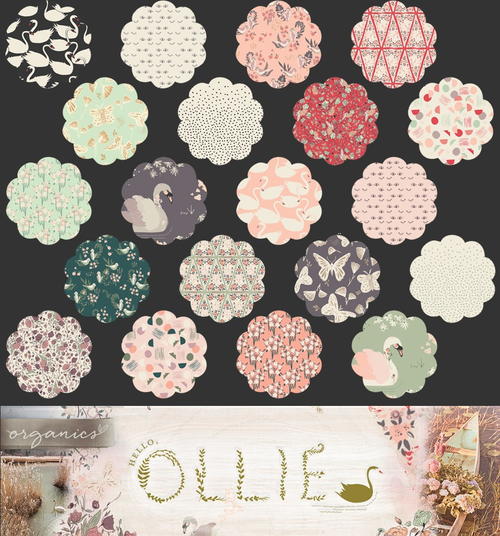 Hello, Ollie Fabric Collection
www.artgalleryfabrics.com
Reviewed by Dana Byerwalter, Editor, FaveQuilts.com

Say hello to Ollie! The latest fabric line from Art Gallery Fabrics features the most darling and eclectic prints. Hello, Ollie will inspire you across a variety of projects, from little girls' dresses to flowy boho blouses and everything in between!

Hello, Ollie features 10 unique prints in two colorways each for a complete collection of 20 designs. Designer Bonnie Christine named this collection for her daughter Ollie, and the sweet fabrics just evoke images of little toddlers playing in tall meadow grasses near the pond.

I can't get over how versatile the prints are in this collection; it really has it all! Seeing the prints and knowing the collection is named for a baby girl, I think first of baby clothes and toddler dresses. The shades of pink and green primarily used conjure feelings of the feminine and even the young. The collection features prints with modern twists. A few geometric patterns weave their way into this collection among all of the floral and swan prints. One print, Winnow Frock, includes flowers encased in triangles. Another print, Village Tundra, features geometric shapes, hatching, and the smallest bit of stippling. 

Many of the beautiful prints feature florals. Birds and butterflies gather around various flowers for a beautiful meadowy feel. The swans are my favorite. I always loved The Swan Princess as a kid, and any reminder of this lovely story makes me so happy. 

One eclectic print is called meadow dreams, and it features little cartoon eyes that are open, closed, and winking. This print would make a fantastic boho blouse. I could imagine seeing this print somewhere in Forever 21. 

So many of these patterns work fabulously well on their own, but a quilt would come together just beautifully with the coordinating fabrics in this collection. For a quilt reminiscent of spring meadows and ponds, the Hello, Ollie line is absolutely perfect.

What images remind you of spring?
Your Recently Viewed Projects