15 Free Flannel Quilt Patterns for Maximum Cuddling
Add warmth to any quilting pattern with these charming fall and winter quilts. Includes lap quilts, bed quilts, and baby quilt patterns.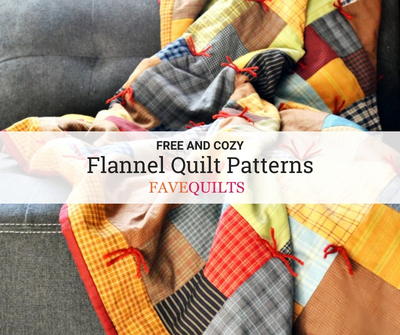 The snuggle is real! If you're looking for a way to take your quilting projects from cute to cozy, consider creating one of these free flannel quilt patterns. Adding flannel to your quilts adds a layer of warmth, comfy textures, and a wintertime style that is hard to pass by. In the cold, chilly months when the wind is blowing, you're going to be reaching for your flannel quilt. We're sure of it. In fact, you might have to make a few quilts with flannel so your whole family has a layer of warmth to snuggle under.

There are a few ways to quilt with flannel and this collection has a little bit of everything. Many of these patterns are rag quilt patterns, meaning they use lots of pieces of different types of fabric while others use flannel as their backing. Quilting with flannel backing is a simple way to transform any free quilting pattern into something just a little bit warmer. Looking ahead to a long, cold wintertime season? These are the quilts for you.
Table of Contents
Flannel Quilt Patterns
The cozy patterns below range in size. Explore flannel quilt patterns for your bed, flannel lap quilt patterns, and so much more. Warmth and style meet to make stunning quilts you won't want to miss in this collection.
Flannel Baby Quilt Patterns
No one needs a little extra warmth more than the littlest member of your family. Flannel baby quilt patterns are an excellent gift for a brand new winter baby. If you have a friend who will be taking their bundle of joy home from the hospital while the snow flies, these baby quilt patterns are the perfect gift.
Tips for Quilting with Flannel Backing
Didn't find a quilt you love in the collection above? That's okay! You can transform a quilt pattern you already love into a flannel quilt in one simple step. Use flannel fabric as your quilt backing. This simple tip makes your quilt extra warm without adding too much weight.

You can buy flannel fabric to do this or be budget friendly and use an old flannel sheet!

Check out the tips below before trying this. 

1. Change Your Sewing Machine Needles
Flannel is a little bit thicker than your average quilting cotton. So, you will want to start with a sharper needle. This will help your machine run smoothly. If you're creating a quilt pattern with a flannel top and back, you may consider changing your needle size altogether.

2. Wash the Flannel First!
Flannel can shrink! So, you want to make sure you have tackled all shrinkage before adding it to the quilt, especially if your new quilt is a sandwich of flannel and other fabrics.

3. Buy Higher Quality Flannel
Not all flannel fabric is created equal. Some flannels can be especially pilly or lose a lot of little tufts of fluff while you're working with them. Spend the extra few bucks on some nicer fabric so you can avoid clogging up your machine. Even better, try using an old flannel sheet that has already been through the wash a bunch of times to avoid this altogether.
What type of flannel do you prefer: printed patterns or solid colors?
Your Recently Viewed Projects