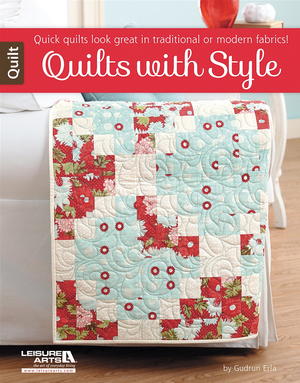 Quilts with Style
Gifted by: Leisure Arts
www.leisurearts.com
Reviewed by Laura Fernandes for FaveQuilts.com


Quilts with Style is an excellent book by Gudrun Erla who is a fabric designer and an experienced quilt designer. Although this book from Leisure Arts contains six quilting patterns, there are two completed variations of the quilts shown, the traditional and the modern look, further increasing the number of possibilities for quilt designs are the arrangements of basic blocks in some of the designs.

All the designs have straight edges that make it extremely simple to piece together and yet produce a sophisticated completed quilt. Every pattern in the book has a modern and traditional color variation. Some of the patterns provide variations to convert to a table runner. Every design provides measurements for the individual block sizes and for the completed quilt size making it easier to plan and choose the appropriate project size. In addition, detailed instructions are provided for adapting every design to different bed sizes. These are very helpful instructions to avoid running out of fabric while completing the project.

The contrast in the modern and traditional look of the same quilt is dramatic and draws the attention to proper fabric color selection. In addition, the pictures capture the quilting design in the completed quilts and provide ample ideas for finishing the projects.

The Riptide (p. 26) is one of the coolest designs in the book. Ideas are provided for four additional patterns by using the basic block. There are instructions for using the cut away corners from making this quilt to complete a bonus table runner.

Just like the Riptide design the Homebound design (p. 10) offers multiple variations of piecing the quilt from the basic block. The Simply Rectangles design (p. 4) could be used to showcase one of a kind fabrics to make a quilt that could be used as a wall hanging. A young teenager would love to own the modern version of the Simply Rectangles quilt while the Snapshots design (p. 42) would make a great wedding present quilt.

An entire section in the book is devoted to general instructions on completing the quilt. The tips provided in obtaining perfect points when piecing would be helpful to any quilter. Various ways to border the quilt, including techniques to make the binding from fabric are included in this section.

This book will be a great addition to any beginner wanting to take up quilting projects. Experienced quilters will find a lot of inspiration for a new project and will be amazed to see the numerous possibilities with a simple basic block and the differences in modern and traditional variation of the same quilt.
Your Recently Viewed Projects