Paper-Pieced Quilts: 22 Foundation Designs to Challenge Your Piecing Skills!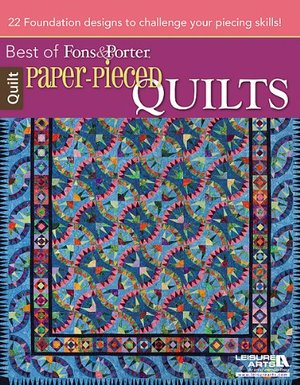 Paper-Pieced Quilts: 22 Foundation Designs to Challenge Your Piecing Skills!
Gifted By: Leisure Arts
www.leisurearts.com
Reviewed by Lisa Fulmer, Guest Reviewer
Every quilt in this book is stunning, but I have to admit, the words "challenge your piecing skills" in the subtitle scared me a little. My piecing skills are not so hot…but I know how beautifully the more complex blocks turn out when they're paper-pieced, so I probably could use the challenge. If you feel like I do, I recommend going straight to page 37 first, where you'll find a terrific paper foundation piecing lesson. This is one area where practice makes perfect. You're just sewing straight lines along a printed template, which is the easy part, but you also need to be comfortable with working the design in reverse. That's the part that makes my brain hurt a little, but I finally got it!
Paper piecing is ideal for quilt blocks with odd-size pieces or angles, so you end up with everything perfectly crisp and aligned – and it really does make the quilt look extra special! The quilt patterns in this book include brilliant stars, festive pinwheels, cute little houses, and striking starbursts. In addition to the basic piecing lesson, there are seven more "Sew Easy" lessons to help you learn more about fussy cutting, mitered borders, prairie points and more. Templates are included for copying on to tracing paper and all the basic quiltmaking techniques are featured in the back.
My favorite is the award-winning quilt, "Project Linus" on page 22, designed by Michael Michalski. It has amazing detail with arcs, stars and curves, plus it shows off lots of different fabrics with small all-over prints.
Your Recently Viewed Projects