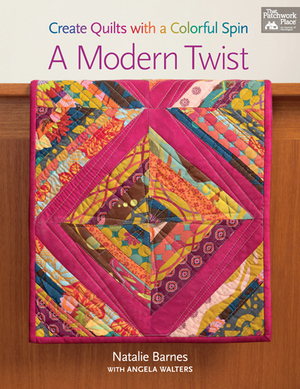 A Modern Twist
Gifted by Martingale
www.martingale-pub.com
Reviewed by Jeanette Benoit, Editor, FaveQuilts.com
BONUS! Enter here to win a copy of this book in the Essential Quilting Book Bundle giveaway. Contest ends 3/29/15

Quilts can sometimes get a bad reputation as being "old-fashioned," but us true quilters know the truth! Quilt designs can certainly be a gorgeous "old-fashioned" heirloom from many moons ago that we treasure, but they can also be modern, colorful designs that mesh with the modern decor of the 21st century. No matter what your personal quilt style is, it's hard not to be inspired by the colorful quilt designs inside A Modern Twist by Natalie Barnes with Angela Walters.
Interior designer and quilt author Natalie Barnes combines her global design and architectural expertise with her quilting knowledge and the result is this collection of truly extraordinary quilting designs. She will show you how to use color, contrast, and composition in your quilt patterns to achieve a truly unique look. Techniques that you will learn include how to trust unusual color combinations, and how to turn simple blocks into random-looking modern designs. Choose from 13 different quilt designs including quilts, table runners, wall hangings, place mats, and more.
Plus, this book also includes a chapter by master quilter Angela Waters. Here, Walters will be able to help you take designer Natalie Barnes' ideas and apply them to the wonderful world of quilting.
Your Recently Viewed Projects