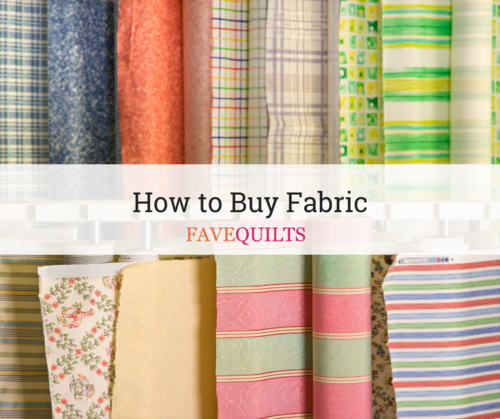 Starting a new hobby can be pretty intimidating. You have to learn the techniques, where to get your supplies, and go through a few failures and missteps before you can get the skill mastered. Here at FaveQuilts, we're constantly working to curate the best quilting tutorials for beginners to help you as you dive into the quilting community.

However, all the basic quilting tips in the world won't be of service to you if you don't know how to buy fabric for your quilts! That's why we spent some time collecting our best shopping tips and tricks to help you conquer the fabric department on your first shopping trip. 

For more quilting tips, click here!
Where Can I Buy Fabric?
Before you start to shop for your fabric, it would benefit you to know where you'll find the widest selection. Luckily, you won't have to search far and wide to find what you need, because there are likely countless options at your fingertips.
Fabric Stores. We know, this one's pretty intuitive, but we would be remiss to ignore the best possible place for you to begin your fabric purchasing journey. Fabric stores, both local and chain retailers, are going to have the widest variety of fabrics for you to choose from. They'll also likely have employees who are well-versed in the fabric world, and will be able to help you buy the fabric you need.
General Crafting Stores. Though they aren't dedicated solely to fabric and sewing, stores like Hobby Lobby and Michael's will still have a large stock of fabrics for you to shop through. Similar to fabric stores, crafting shops tend to hire employees with craft knowledge, so you should still be able to get the assistance you need to make the right purchase.
Big-box Retailers. Think places like Target and Walmart that have everything ranging from groceries to camping materials. These stores typically have a fabrics department right next to their sewing and crafting section. The downside to this option is the limited options you'll have when it comes to patterns and materials, but if your store options are limited, you'll likely be able to find something that will work for you!
Online. The internet has become a marketplace for pretty much anything over the last decade, and that includes fabrics. The upside is the obvious convenience: you don't even have to leave your house to shop! The problem? It can be difficult to determine the actual color and quality of the fabric you're purchasing when you're only looking at a picture. We recommend only buying online if the site has a lenient return policy.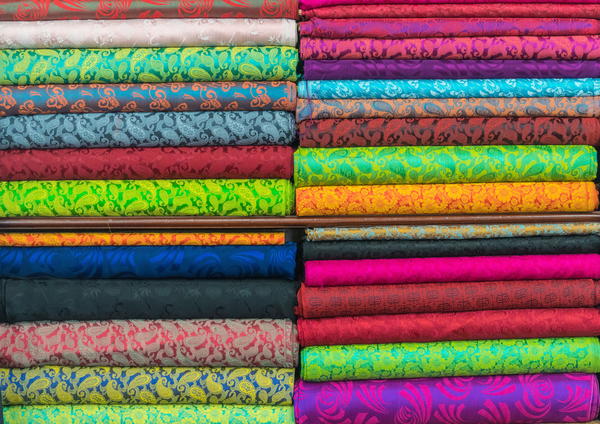 Picking the Right Fabric
Now, you may be asking "is it really that complicated to buy fabric?" to which the short answer is both yes and no. If you don't know what to look for when you're shopping, then buying fabric can be quite challenging and confusing. The plus side is it becomes second nature once you learn how to read a fabric bolt and which fabrics work for your particular quilt pattern. Here are some times on the best ways to buy fabric:
Determine what pattern you're going to make before you go. It isn't recommended to blindly purchase fabric and determine what you're going to make later. Some quilt patterns are rather particular when it comes to which fabrics yield the best final product, which is why you should have an idea of what you're hoping to create before you purchase.
Look up reviews of the pattern. This is a great way to hear from others who have created the pattern you want to work with to see which fabrics they chose and how they panned out.
Figure out how much fabric you'll need. Patterns will also typically recommend how much fabric you'll need (another reason to choose your pattern before you shop!), but it doesn't hurt to buy a bit more than that recommendation in case you make a mistake. The number one thing you'll want to avoid is buying too little of a particular fabric, because by the time you realize you need more and have to run back to the store, that particular fabric might be gone.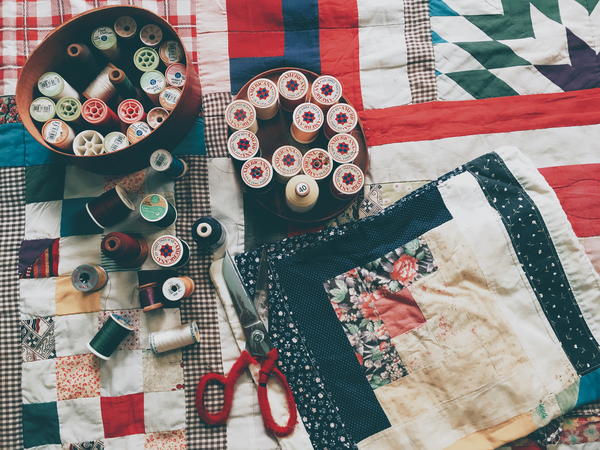 Understand the measurements. When you're asking for your fabric to be cut, understand that when you ask for a "yard," you'll be getting a piece that is 36x42.
Learn how to read a fabric bolt. Labels on fabric bolts contain quite a bit of information, typically inluding the fabric type, fabric content, fabric width, fabric origin (where it came from), and fabric care. All are important factors to consider when purchasing! 
Check the color. When compared to the array of other fabrics, the color of the fabric you're looking to buy might not be it's true color. To make sure you're getting the shade you want, take the bolt off the shelf and take a closer look at it away from the colorful conglomeration on the shelf.
Check for damage. At first glance, a fabric might be perfect, but then you take it home and find some damage upon closer inspection. When you're checking the color of the fabric, also check for rips, tears, stains, or inconsistent design qualities before you ask to get it cut.


Were these tips helpful? Let us know and share YOUR fabric shopping tips in the comments!
Your Recently Viewed Projects