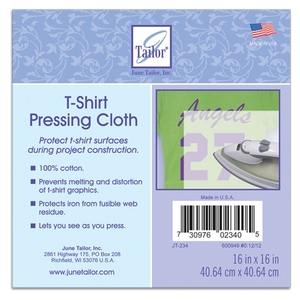 T-Shirt Pressing Cloth
Gifted by: June Tailor
www.junetailor.com
Reviewed by Jeanette Benoit, Editor, FaveQuilts.com
Before you begin work on your next t-shirt quilt, you'll definitely need to stock up on T-Shirt Pressing Cloth from June Tailor. For just $6.25, you can get a 16 inch by 16 inch cloth, which is definitely a big enough size for whatever type of project you are making.
This handy dandy cloth is great because it will easily protect your t-shirt surfaces as you build your project. It works especially well for detailed t-shirts with intricate graphics because it will prevent melting and distortion of whatever image or text is on your t-shirt. Plus, it's thin enough that you will still be able to see what you're doing as you press.
Not only is this cloth helpful to have because it protects your precious t-shirts, but it also will help to keep your iron protected, as well. The T-Shirt Pressing Cloth protects your iron from fusible web residue.
This 100% cotton cloth is made in the USA.
Be sure to also check out June Tailor's T-Shirt Project Fusible Interfacing and the T-Shirt Transformation Ruler. Check out a video of all three in action below!
June Tailor T-Shirt Quilting Ruler and Products:
Your Recently Viewed Projects