T-Shirt Project Fusible Interfacing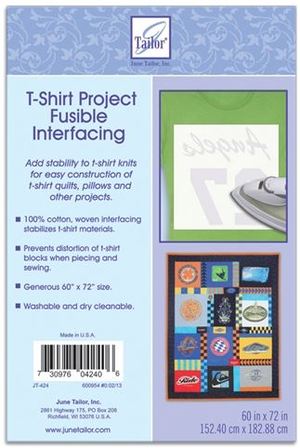 T-Shirt Project Fusible Interfacing
Gifted by June Tailor
www.junetailor.com
Reviewed by Jeanette Benoit, Editor, FaveQuilts.com


If you've ever made a t-shirt quilt before, you know how flimsy those t-shirts can be to work with. To make your t-shirt quilting projects more enjoyable and easy to construct, you'll definitely want to invest in June Tailor's T-Shirt Project Fusible Interfacing. For only $21.99, it will become your new best friend when making your t-shirt quilts.
The T-Shirt Project Fusible Interfacing will add much-needed stability to those lightweight knit t-shirts. Whether you're making an actual t-shirt quilt, a pillow, or tote bag, this interfacing will certainly help make construction significantly easier. It's a generous 60" x 72" inches, so it works on any project you have, regardless of size.
This 100% cotton woven interfacing will not only help add stability to the t-shirts, but it also works to prevent distortion of the actual shirts when you're piecing and sewing them together. It's super easy to care for, as well. You can use it over and over again because it's washable and dry cleanable. Plus, it's made in the USA.
Be sure to also check out June Tailor's T-Shirt Pressing Cloth and T-Shirt Transformation Ruler! Watch a video of all three in action below.
June Tailor T-Shirt Quilting Ruler and Products:
Your Recently Viewed Projects