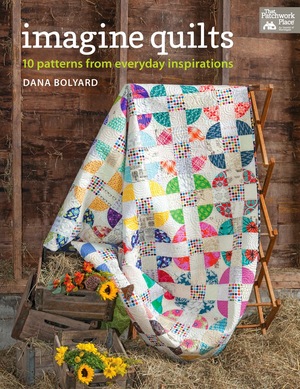 Imagine Quilts
Gifted By: Martingale/That Patchwork Place
www.shopmartingale.com
Reviewed by Mollyhall Seeley, Editor of FaveQuilts
Have you ever seen something out of the corner of your eye—a shape, a color, an object—and immediately been inspired to make something? That's the premise behind Dana Bolyard's Imagine Quilts: Patterns from Everyday Inspirations. Bolyard takes play and improvisation to a whole new level with her quilt designs, creating incredibly fresh patterns that would look just right in any home.
Some of Bolyard's quilts are fabric-inspired; both "Elephant Parade" and "Warm and Cool Log Cabin" were inspired by shifting through her own fabric stash. Others are playful twists on traditional designs, like "Three Wheeling," (new pinwheels) "Zip It!" (new triangles) and "Princess Crowns" (new dresden plates). Some designs she pulls from the world around her—the "Patchwork Whale" quilt looks like it could swim off the quilt and into your studio. And others, such as "Kite Strings" exude a real joy of quilting.
The tutorials in Imagine Quilts are beautiful, easy to understand, and clearly laid out. Bolyard does an excellent job pairing graphics and images with clear instructions. Every time you hit a snag in your quilting, Bolyard is there with a hint or a tip to get you back on track. If you're a quilter who's been at it for years, and you need a quick shot to your creativity bone, Imagine Quilts is the book you've been waiting for!
Your Recently Viewed Projects