Fiskars Adjustable Three-Position Rotary Cutter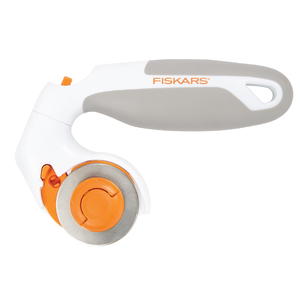 Fiskars Adjustable Three-Position Rotary Cutter
Gifted by: Fiskars
www.fiskars.com
Reviewed by Madison Bowes, Editor, FaveQuilts.com
Cutting a straight line with scissors is nearly impossible; working with rotary cutters is much easier, and saves you the headache that a crooked cut can bring. Fiskars created the Adjustable Three-Position Rotary Cutter to save you not only from that headache, but from an arm ache as well. In three positions, classic, power, and angled, this rotary cutter will change the way you cut your materials forever.
The classic stick position will have you cutting like any regular, normal rotary cutter. No fuss, just a perfectly straight and even line. In power position, you can increase your force while cutting thicker materials, ensuring a perfect and easy cut without running your blade over the fabric multiple times. My favorite position the rotary cutter has is the angled position. You can adjust the blade to the right or left, depending on the angle you want, and awkward cutting angles become way easier to handle. Ergonomically designed, this rotary cutter is sculpted with a Softgrip handle to ensure comfortable use, and is designed for both right and left handed crafters.
The adjustable rotary cutter is heavy duty, and the blade will not wear down anytime soon. Precision-ground stainless steel keeps the blade sharp, and you will be able to cut through multiple layers of fabric, vinyl, and more. This tool also comes equipped with a safe guard on the blade. All you need to do is slide the button to extend the guard, and any little hands or fingers will be safe.
Check out the rotary cutter in action!
Your Recently Viewed Projects