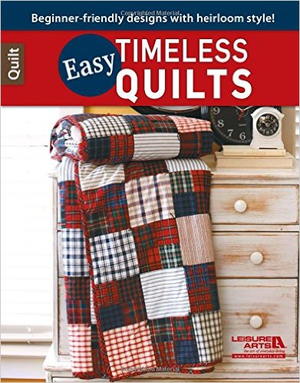 Easy Timeless Quilts
Gifted by: Leisure Arts
www.leisurearts.com
Reviewed by Laura Fernandes for FaveQuilts.com


Find great project ideas in Easy Timeless Quilts from Leisure Arts! This book contains seven quilting patterns that are beginner friendly and yet truly timeless.

These are easy quilts that could be whipped up over a weekend and would make excellent gifts for a loved one. All the designs have straight edges that make it extremely simple to piece together. The patterns provide excellent color combination ideas for choosing the fabrics. Every design provides measurements for the individual block sizes and for the completed quilt size making it easier to plan and choose the appropriate project size.

The Broken Dishes quilt design (p. 20) would be a favorite quilt to make and gift. It seems like a variation of the commonly known Pinwheel quilt design but the choice of fabric colors and the layout make it a truly unique piece. As with all the designs in the book, the basic block can be used to imagine other different creative designs. In the broken dishes design, the basic block is a half square triangle, but the placement of the color schemed blocks gives it a timeless perspective.

Some of the designs in the book like the Plaid Quilt (p. 4) would make a very good gift for a young teenager and could be completed in jiffy. The clever idea of using embroidery floss for tying the quilt could be used to complete any of the quilts in the book. The Friendship Album quilt design (p. 36) can be made for gifting brides and even graduating high-school seniors. It can be used for signing messages with ink or embroidery and makes the quilt even more personal for both the giver and the receiver.

An entire section in the book is devoted to general instructions on completing the quilt. The tips provided in obtaining perfect points when piecing would be helpful to any quilter. Various ways to border the quilt, including techniques to make the binding from fabric are included in this section.

This book will be a great addition to any beginner wanting to take up quilting project and to experienced quilters looking out for inspiration for a new project.
Your Recently Viewed Projects