Cups and Saucers: Paper-Pieced Kitchen Designs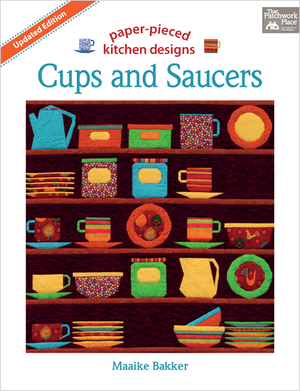 Cups and Saucers: Paper-Pieced Kitchen Designs
Gifted by: Martingale
www.martingale-pub.com
Reviewed by Jeanette Benoit, Editor, FaveQuilts
Transform your home with these lovely paper-pieced quilt designs. Inside Cups and Saucers: Paper-Pieced Kitchen Designs by Maaike Bakker, discover more than 40 fun block patterns with kitchen themes. The designs in this book are perfect for showcasing in the kitchen because they feature cute little designs of plates, saucers, cups, and even colorful fruits and vegetables.
The book begins with your typical introduction, but also includes general instructions for paper piecing, as well as planning a quilt, assembling the quilt top, and finishing the quilt. Then comes the fun part: the projects! Complete quilt designs include: High Tea, Welcome, Teatime Table Runner, Dutch Dishes, Summer Place Mats, Colorful Cupboard, Christmas Crockery, Harvest, Green Place Mats, and Breakfast.
This is actually an updated version of Cups and Saucers: Paper-Pieced Kitchen Designs; the previous version was so popular, they updated the book! This new version showcases all of the same popular projects, but in completely new fabrics. As the proud owner of this popular quilting book, you're welcome to use their recommended fabrics, or create your own masterpiece using a totally different fabric- the choice is yours!
Some say the kitchen is the most important and lived-in room of the house, so why not decorate it with some kitchen-inspired quilt designs? You'll certainly find your new favorite quilts inside Cups and Saucers: Paper-Pieced Kitchen Designs!
Your Recently Viewed Projects