9 Beautiful Bow Tie Quilt Patterns
Learn to make a bow tie quilt with these free patterns.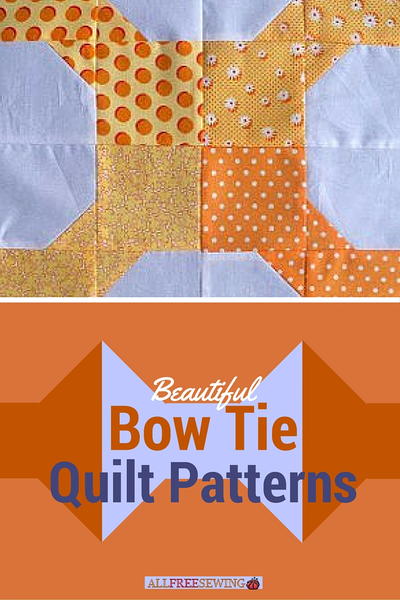 Also known as the necktie or hourglass quilt, the bow tie quilt originated in the time of the pioneers setting in the Western part of America. As you can imagine, this quilt pattern, like many others were named after normal parts of pioneer life.

However, when it comes to bow tie quilt pattern history, there are theories that quilts like these were used as secret signals for stops on the Underground Railroad.

Some historians think that quilt patterns in a certain order were used to communicate with slaves who wanted to escape the South during the American Civil War.

Quilt patterns displayed on a fence or over a windowsill would not be suspicious to any passersby or slave owners. One aspect of African culture is relaying secrets through common objects, which could be exemplified by a quilt.

A specific theory about the bow tie quilt blocks is that it was a symbol for slaves to dress up like rich people in order to travel safely.

Quilt patterns, like many pieces of art, communicate feelings, emotions, and events in general, but the use of quilts in the Underground Railroad is quite interesting and possible. Just think that many people's freedom could have been granted because of quilting a bow tie square!

 
9 Beautiful Bow Tie Quilt Patterns
Sew up one of these 9 Beautiful Bow Tie Quilt Patterns to create your own secret messages or just make a masterpiece!

As you may notice, there are slight differences between bow tie quilts and blocks and hourglass quilts but the ideas and quilting methods are similar so that when you learn one you can learn the other easily.
Your Recently Viewed Projects