"The Best Free Quilt Patterns for Christmas: 10 Quilt Blocks, Christmas Ornaments to Make, and More" eBook
By: Kathryn Wright, Editor of FaveQuilts.com
Free Christmas Quilt Patterns from FaveQuilts: The Best Free Quilt Patterns for Christmas: 10 Quilt Blocks, Christmas Ornaments to Make, and More eBook
Quilters don't always have the luxury of time when it comes to making patterns for the holidays. That's why we've prepared the "The Best Free Quilt Patterns for Christmas: 10 Quilt Blocks, Christmas Ornaments to Make, and More" eBook. We're providing you with everything you need for a successful holiday season; Christmas quilt patterns, beautiful quilted Christmas decorations, and even more ideas that will help make planning for Christmas easier than ever.

Making a quilt takes a lot of preparation, and sometimes it can feel a little overwhelming, which is why we've built this guide. You won't have to worry about coming up with new ideas on your own or spending hours in the stores looking for decorations that don't match your style. Simply try one of these beautiful Christmas quilt patterns and see how your home lights up with a new sense of Christmas spirit in no time.

Quilted Homemade Christmas Ornaments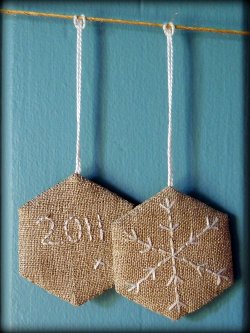 The Best Free Quilt Patterns for Christmas: 10 Quilt Blocks, Christmas Ornaments to Make, and More starts off with the smallest Christmas patterns you can make; homemade ornaments. These projects are great for using up scraps as well as challenging your quilting abilities with smaller patterns, some of which have very fun and intricate details.
A particularly charming pattern is that for the "Hexie Snowflake Decorations" (pg. 5). The easy-to-achieve elegance of an English paper piecing pattern gives your quilted Christmas decorations a simply classic twist. What makes this a truly special ornament is that not only can you embroider your own special snowflake pattern on the fabric, but also names, dates, or anything else you'd like to commemorate during the holiday season.
Another way we're encouraging quilters to get really creative with their homemade Christmas ornaments is with free motion quilting patterns like the one included in the "Free Motion Christmas Ornament" (pg. 9) tutorial. More advanced quilters can really make something that will blow their friends and family away when they see it on the Christmas tree.

Quilting a Christmas Stocking Pattern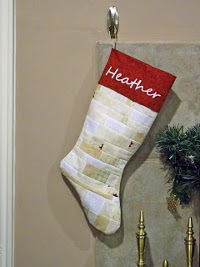 Another popular Christmas tradition after trimming your tree is hanging your stockings, and there are plenty of holly jolly Christmas quilt patterns that you'll be do so with. Grab you scrap pile and take a look at the two patterns provided in The Best Free Quilt Patterns for Christmas: 10 Quilt Blocks, Christmas Ornaments to Make, and More.
The "Scrappy Classic Christmas Stocking" (pg. 15) has more of a modest design. This is perfect for quilters who need to empty their fabric stash, but don't want to go overboard with patterns and colors. It's easy to personalize, and you can make it to match your home decor, or anything else you'd like.
For those of you looking for a pattern with more of a bolder look, try the "Crazy Cuffed Christmas Stocking" (pg. 12). Crazy quilting is one of the most modern-looking old fashioned techniques out there, so it's easy to place within both contemporary and classic home decor styles. It'll help you get rid of some of that clutter and learn how to turn mismatched scraps into a cohesive quilted Christmas decoration.


More Quilted Christmas Decorations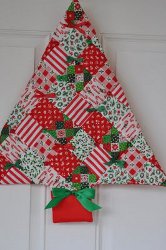 Don't worry; we're not skimping the bigger patterns in The Best Free Quilt Patterns for Christmas: 10 Quilt Blocks, Christmas Ornaments to Make, and More. After you've whipped up some new homemade ornaments and stockings, you can really get to work on some bigger quilted Christmas decorations for the rest of your home.
Vintage-inspired home decor is still going strong, especially during the holiday season. If you have a flair for all things old-fashioned, you should try making a "Vintage Christmas Tree Wallhanging" (pg. 22). The patchwork design easily projects a homey, old-world look that's not too colorful, but easily complements whatever room you hang it in.
Another very important Christmas quilt pattern is the tree skirt. In order to properly complement both your decorated tree and your general space, you'll need a pattern like the "Flowery Christmas Tree Skirt" (pg. 19). It's ruffly design has a weightless look that makes any color scheme pop while drawing a lot of attention to your tree. Quilters who are used to square patterns should definitely give this Christmas quilt a try; you'll learn a lot about the extent of your piecing techniques.
Christmas Quilt Block Patterns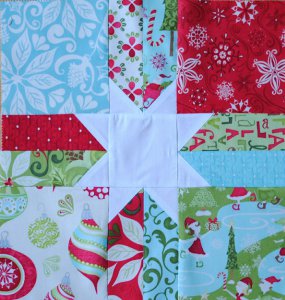 Even though we've included full-sized quilt patterns in The Best Free Quilt Patterns for Christmas: 10 Quilt Blocks, Christmas Ornaments to Make, and More, we know that some quilters prefer to get their inspiration from the most basic part of many quilt patterns; the quilt block. No worries, because we've got a series of creative blocks using applique patterns, quilting classics, and plenty of unique techniques to ensure that will brighten up any Christmas quilt.
For something not quite as detailed, choose the reliable log cabin quilt pattern design and make a "Christmas Log Cabin Quilt Block" (pg. 30). Not every Christmas quilt needs to be bursting with Christmas characters and colorful designs. When you're in need of a design that you know will look good in those festive Christmas colors without being too plain, the log cabin quilt easily comes to mind, and this pattern will not disappoint.
There are, of course, plenty of other techniques you can utilize to begin designing your next Christmas quilt. Piecing fans will appreciate the way the "Piecey Christmas Tree Block" (pg. 27) utilizes different festive fabrics to make a simple Christmas tree quilt block. You can also take inspiration from some popular quilt patterns like the star block and give them a holiday twist like the one in the "Scrappy Christmas Star Block" (pg. 33).

Full-Sized Christmas Quilt Patterns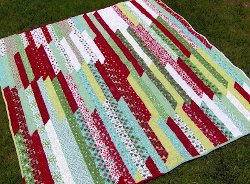 Quilts are the best way to stay warm during the Christmas season, and they make the perfect gifts. Before it gets too cold outside, get your free copy of The Best Free Quilt Patterns for Christmas: 10 Quilt Blocks, Christmas Ornaments to Make, and More. We've found some outstanding Christmas quilts that utilize all of the skills you've learned from the other projects in this eBook.
It's best not to overcomplicate things when there's already so much stress attached to the holiday season, so when you're in a bit of a hurry, try the "Christmas Ribbons Throw" (pg. 36). You'll only need a weekend to use strip quilt piecing and make this jelly roll quilt pattern. It's not difficult, but will really impress with its artistic look. You can even use your scrap fabrics and save even more money during the holidays.
For an even bigger challenge, there's the "Candy Cane Stars Quilt" (pg. 42), which provides quilters with a series of templates that will guide you to making an unforgettable swirling star quilt design. It's quite an impressive pattern that you may want to save and make with some of your other stunning fabrics too.



What You Get with Your Free eBook
With your free copy of the The Best Free Quilt Patterns for Christmas: 10 Quilt Blocks, Christmas Ornaments to Make, and More, you can also subscribe to our Piecing It Together newsletter to become part of a helpful and friendly quilting community. In subscribing to the newsletter you will receive:
Four weekly e-mails with free quilt patterns, tips, collection pages, videos and more.
Chances to win quilting books and products in giveaways and contests.
New FREE patterns made available to you throughout the year.
Access to our free pattern library full of hundreds of free quilt patterns.
The opportunity to share ideas and help others in the quilting community.

There's no time to waste when it comes to quilting for the holidays. Download our latest eBook and subscribe to our Piecing It Together newsletter, and you will receive new free quilt patterns in your e-mail inbox every week! Join the FaveQuilts.com quilting community and gain access to hundreds of free quilt patterns and connect with quilters all over the country. Download this free eBook and check out FaveQuilts.com for tons of quilting inspiration!
Tags / Related Topics
Your Recently Viewed Projects
Images from other quilters

Love these projects? Get MORE delivered to your Inbox – FREE Click Here!