10 Pineapple Quilt Block Patterns
Feeling tropical? These pineapple quilt blocks are instantly recognizable and create visually stunning quilts!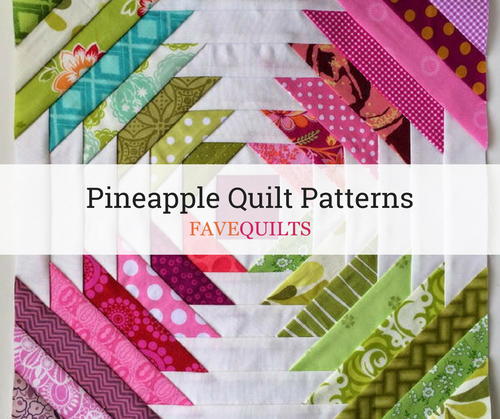 The pineapple quilt block is one of the most recognizable and iconically "Americana" styles of quilt blocks. Believed to have emerged in the mid-1800's during Lincoln's presidential campaign, the pineapple quilt block was, and still is, a symbol of opulence and hospitality. As a variation of the log cabin quilt pattern, the pineapple quilt pattern uses similar layering methods in the composition of its blocks. 
 
The beauty of pineapple quilt blocks is the wide variety of color schemes and patterns you can choose when composing them. With their multiple layers and fabrics, these free quilt patterns give you unlimited options when it comes to designing a block that fits your tastes and preferences. Explore our collection of free quilt patterns below, and try your hand at one of these lovely pineapple quilt blocks for your next project.

If you've never made a pineapple quilt block before, then you'll love these beginner-friendly quilting tutorials. A great way to use up your fabric scraps, these tutorials for how to make a pineapple block are ideal for those new to quilting. Are you a more experienced quilter? Then these DIY quilt blocks are exactly what you need to make! These pineapple block patterns are a great way to play with the traditional log cabin quilt and are sure to shake up your quilting routine.
Your Recently Viewed Projects