Concentric Diamonds Patchwork Quilt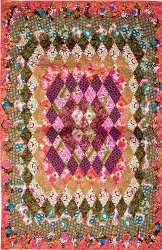 Concentric Diamonds Patchwork Quilts
Despite its simple and repetitive pattern, the Concentric Diamonds Patchwork Quilt creates a beautiful, impressionistic look when made with patterned fabrics in coordinating colors. Use this free quilt pattern to make a decorative bedspread!
Project TypeMake a Project
Quilt Size45.5 inches wide x 72 inches long
Time to CompleteA week or two

MATERIALS:
Fabrics #1 through #4—1⁄3 yard each
Fabrics #5 through #8—5⁄8 yard each
Fabrics #9 through #12—1 yard each
Fabric #13—1-3⁄4 yards (includes binding)
Backing—2-7⁄8 yards
Batting—50" x 77"
Coordinating thread
Accuquilt die cutting machine
Accuquilt Strip Cutter - 2-1/2" (#55017)
Accuquilt 6" x 12" mat (#55112)
Accuquilt Diamonds - 4" x 4" (#55040)


INSTRUCTIONS:


Fabric #1:
Fabric #2:
Fabric #3:
Fabric #4:
Fabric #5:
Fabric #6:
Fabric #7:
Fabric #8:
Fabric #9:
Fabric #10:
Fabric #11:
Fabric #12:
Fabric #13:
Cut 50—diamonds

Cut 7—2-1/2" x 40" strips for binding
Tip: For diamonds, cut strips of each color 11" wide across the width of the fabric. Fan fold into 4½" folds with up to six layers of fabric, place on die, and cut.

Sewing Directions:
Pin and sew two Fabric #13 diamonds together for first row. Press seam in one direction.

Pin and sew the next diagonal row. One Fabric #13, two Fabric #12, and one Fabric #13 diamonds. Press seams in opposite direction from first row.

Pin and sew row one to row two matching diagonal seams. Press seam toward the first row.
Tip: Offset seam intersections 1⁄4" and check accuracy by placing a pin through the seam intersections of both rows.
Continue to pin and sew diamonds together for each row. Press seams of each row in opposite directions.

Pin and sew each row to the growing quilt top. Press seams of rows one through 13 toward first row. Press seams of rows 14 through 25 toward row 25. This results in better seam allowances on the outside edges of the quilt top for adding binding later.
Quilting and Finishing:
Layer batting between quilt top and backing.

Pin or baste layers together.

Model was machine quilted with an all-over large stippled design.

With large ruler mark straight lines 1⁄4" beyond seam intersections of outermost diamonds as shown by dotted lines on diagram.

Add binding, aligning the raw edge of binding strip with the marked line on quilt, mitering corners.

Your Recently Viewed Projects