"How to Quilt a Bag With Style: 7 Free Bag Patterns and Purse Patterns" eBook
Free Quilted Bag Patterns from FaveQuilts: How to Quilt a Bag With Style: 7 Free Bag Patterns and Purse Patterns eBook
Being stylish shouldn't always have to cost you a pretty penny, but luckily for quilters, there are always alternatives to going to the store. With your own copy of How to Quilt a Bag With Style: 7 Free Bag Patterns and Purse Patterns, you'll have access to a whole series of patchwork bags and homemade quilted handbags that are just as cute and functional as anything out in stores now.

This eBook has quilted bag patterns for all occasions. You can make a small bag to stash your makeup and accessories, or make a big quilted tote to hold all of your supplies and books when you go traveling. Of course, there are also some super cute quilted handbags that will make a great fashion statement with any outfit. What's so great about each and everyone one of these free quilted bag patterns is that because you're making them yourself, they can come in any color, and you can make any kind of changes that you'd like depending on your skill level. Finding out a bag isn't long-lasting or quite what you were looking for can be a big disappointment down the road, but you won't have to worry about it with the patterns in this eBook!


Check out our other free eBooks!


Homemade Quilted Handbags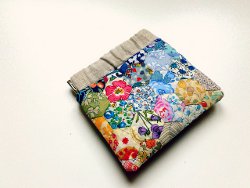 Our eBook begins with smaller projects to introduce some common quilting techniques used to make bag patterns. You'll be surprised at how many types of piecework you'll be doing with such small designs, and you'll even get to utilize some paper piecing patterns. This portion of How to Quilt a Bag With Style: 7 Free Bag Patterns and Purse Patterns should give you all of the basics you'll need to get to work on your first quilted bag pattern.

One of the most interesting designs you'll find is within the "Classic English Flex Frame Pouch" (pg. 5), which not only uses a chic hexagon quilt pattern, but also an impressive little structure for snapping the bag shut securely that anyone who wants to learn more about the ins and outs of making bags will just have to see. This English paper piecing pattern is perfect when you're looking to put your scraps to good use or work with a smaller amount of fabric. The results are quite stylish, but also very functional and secure so you can easily place small items in here and not have to worry about losing them.

If you really want to make something to impress, you'll be amazed by the trick used to make the "Leftover Block Envelope Bag" (pg. 16). You'll only need one quilt block, so imagine the amount of fabric you'll be saving by making this fun design! This quilted bag pattern is perfect for when you're looking for a lightweight pattern that you don't have to carry in your hand. It's popular with all age groups, so you can also make one as a gift for someone special during any time of year.

Patchwork Bags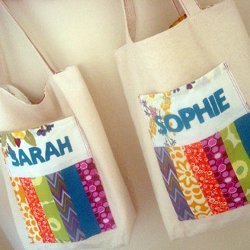 For some more specific ways to use scraps, How to Quilt a Bag With Style also includes some patchwork bags that are strong and come in the right sizes to be considered reliable for everything from carrying groceries to toting around quilt supplies. It'll be impossible for others to tell that these are homemade quilted bags because of how excellent the quality is.

When it comes to day-to-day usage, the "Patchwork Pocket Personalized Book Bag" (pg. 18) is a popular choice. Like other quilted tote bags, it's built to carry a good amount of weight while still being comfortable to carry, and best of all, the pattern shows you how to use your quilt scraps to make cute personalized pockets in the front. This makes this free bag pattern one that kids in particular love as well. You can make one for all of your little ones to help them stay organized for school, carry books to the library, or use to hold their toys.
There are other patchwork bags within this collection that have a very different look from the previous option. The "Finish It Your Way Patchwork Bag" (pg. 24) has a rounder look similar to other purse patterns, but is just as reliable as the other patterns in our eBook. You'll want to try this pattern if you are looking to make a striking design using strips from a collection of strips you have. It's very cute and similar to what you'll find in stores today, making it another free bag pattern that will likely be popular with all ages.
Quilted Tote Bags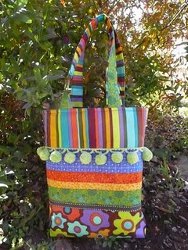 The last section of How to Quilt a Bag With Style: 7 Free Bag Patterns and Purse Patterns has some bigger patterns for quilted tote bags. When you need a lot of space, these are the ideal free bag patterns to go for. Don't, however, let their functionality lead you to thinking they can't look cute too! Just take a look at "The Blossie Bag" (pg. 30), which comes alive not only with a bright blend of fabrics, but with fun little embellishments that can be changed depending on how you'd like to decorate your quilted bag pattern. There's no better way to make a statement than with this quilted tote bag!
On the opposite side, there are also patterns for quilters looking for less embellishments, such as "Angie's Big Quilted Tote" (pg. 35). Just pick out your favorite fabric and you'll have a brand new quilted tote bag to take with you anywhere and everywhere. It couldn't be simpler! You'll learn a lot about how to detail a quilt pattern, as well as correctly make an interior that's secured to your fabric without trouble. Even when these patterns look less complex, you can guarantee that you'll be learning a lot about your quilting once you work on them.


Download How to Quilt a Bag With Style: 7 Free Bag Patterns and Purse Patterns for free today!

What You Get with Your Free eBook
With your free copy of the How to Quilt a Bag With Style: 7 Free Bag Patterns and Purse Patterns, you can also subscribe to our Piecing It Together newsletter to become part of a helpful and friendly quilting community. In subscribing to the newsletter you will receive:

Four weekly e-mails with free quilt patterns, tips, collection pages, videos and more.
Chances to win quilting books and products in giveaways and contests.
New FREE patterns made available to you throughout the year.
Access to our free pattern library full of hundreds of free quilt patterns.
The opportunity to share ideas and help others in the quilting community.

You can have a new bag within a week if you download your own copy of this collection of free bag patterns today! We hope that this eBook provides you with some thrifty alternatives to store-bought bags that you can enjoy for yourself and make for others as well. Once you have downloaded the eBook and subscribed to our Piecing It Together newsletter, you will receive new free quilt patterns in your e-mail inbox every week! Join the FaveQuilts.com quilting community and gain access to hundreds of free quilt patterns and connect with quilters all over the country. Download this free eBook and check out FaveQuilts.com for tons of quilting inspiration!


Download How to Quilt a Bag With Style: 7 Free Bag Patterns and Purse Patterns for free today!
Your Recently Viewed Projects