Quilted Christmas Booties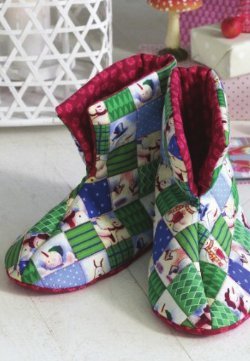 Quilted Christmas Booties
Make a cozy Christmas gift with this simple bootie pattern. Quilted Christmas Booties keep toes toasty on chilly winter nights with fluffy batting and foam soles. Make a few of these quilted slippers in different fabrics so that you can wear them all winter long. You can also adapt the pattern to make these slippers in different sizes for the entire family. Your children, grandchildren, and loved ones will adore these handmade slippers. Quilted Christmas gifts are very popular because they are so durable. Your family can wear these slippers year after year, every Christmas.
Project TypeMake a Project
Time to CompleteWeekend project
Primary TechniqueWhole Cloth

MATERIALS:
Note: This pattern uses Free Spirit fabric (100% cotton) "Christmas Snowmen" collection by Hallmark. The fabric is approx. 112 cm (44 inches) wide.
sewing machine
iron
ironing board
straight pins
OUTER FABRIC: Free Spirit fabric, art. QHM8000-MULTI – 50 cm (20 inches)
LINING FABRIC: Free Spirit fabric, art. QHM79000-REDXX – 50 cm (20 inches)
FOR THE WARM INNER LAYER: high-loft batting/wadding from Freudenberg, art. 280, 90cm (36 inches) wide – 25 cm (10 inches)
FOR THE SOLES: foam rubber (e.g. from DIY centre), approx. 1 cm (3/8 inch) thick – 60x25 cm (24x10 inches)
Coats Duet sewing thread (art. 4645100) in a matching colour – we recommend red, colour 04609
INSTRUCTIONS:
Notes:
The fabrics may shrink during the first washing. For this reason, we recommend that you wash the fabrics before beginning to cut and sew your booties.


The patterns provided is to scale, please check the correct size of your print out with the help of the control square. The pattern does not include seam allowance.

When cutting out pieces, add 1 cm (3/8 inch) wide seam allowances around all edges.


Shoe piece: for each bootie, cut 2 pieces from each fabric and also 2 batting pieces

Sole: for each bootie, cut 2 pieces from lining fabric and also 1 piece of foam rubber

First quilt the outer fabric and the batting together. To do this, lay the fabric on the batting, with the right fabric side facing up. Stitch vertically and horizontally along the lines of the checked print.

Tip: After each construction step, press all seams and edges. This makes sewing easier and makes the seams look neater.

For each bootie, lay the shoe pieces of outer fabric together, right sides facing. Stitch the back seam. Press the seam open. Stitch the lining pieces together in the same manner. Then lay the lining unit on the outer unit, right sides facing. Stitch together from each seam mark (1) to center back seam. Now lay the outer pieces together again and stitch
together from seam mark 1 to seam mark 2. Stitch the lining pieces together in the same manner.

For each sole, lay the fabric pieces together, wrong sides facing, then lay the foam rubber piece between the fabric layers. Stitch all three layers together, around outer edges. Stitch sole to top unit. On inside of bootie, finish edges of allowances with zigzag stitching. Turn bootie right side out. Make the second bootie in the same manner. Your warm booties are ready to wear!

Take The Christmas Quiz to discover your next free Christmas quilt project.
Your Recently Viewed Projects