12 Awesome Free Quilt Patterns and Small Quilted Projects
Free Quilt Projects from FaveQuilts: 12 Awesome Free Quilt Patterns and Small Quilted Projects eBook

FaveQuilts has put together its very first free eBook of free quilt patterns! The 12 Awesome Free Quilt Patterns and Small Quilted Projects eBook has over 50 pages filled with applique quilt patterns, patchwork quilts, and small quilted projects. Whether you're a novice quilter or you have years of experience, you're sure to find some free quilt projects that will keep your sewing machine humming!

12 Awesome Free Quilt Patterns and Small Quilted Projects is absolutely free to FaveQuilts readers. Simply click on any of the links below to download the eBook as a PDF. You can then save the eBook to your desktop or print it out for easy reference while you are quilting. With this downloadable eBook, you'll have all 12 free quilt patterns at your fingertips any time you want to start quilting! If you've never tried making a quilt before, now is the time to start! 12 Awesome Free Quilt Patterns and Small Quilted Projects is full of simple quilt patterns to introduce you to the fun of quilting! The free quilting patterns in this eBook will inspire you to start creating so that you can make patchwork quilts, applique quilts, and other small quilted projects like the ones you see here on FaveQuilts.com.
---
Want more free quilting patterns and eBooks? Check out all of our free quilting eBooks!
---
Applique Quilt Designs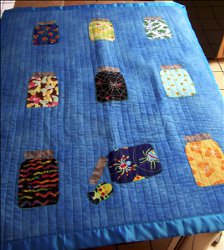 Start small with some applique quilt designs from 12 Awesome Free Quilt Patterns and Small Quilted Projects, like the "Bug Jar Quilt" (p. 12). Using this tutorial, you can learn how to make any applique quilt patterns that involve fusible applique. It will also familiarize new quilters with basting, maching quilting, and binding applique quilts.
Applique quilt patterns are great for quilters who enjoy quilting and working with fabric but don't like piecing. Allow your creativity to shine with applique quilt patterns that let you cut out whimsical shapes and arrange them on a fabric background in a way that's aesthetically pleasing. You can design something such as floral applique quilt patterns for bedrooms and girls' rooms with the "Darling Daisies Applique Quilt" (p. 20). These applique patterns for daisy petals and centers can help you make this beautiful quilt at home! There are also seasonal free quilt projects like the "Autumn Applique Wall Hanging" (p. 18), which uses fall leaves, acorn, and pumpkin applique patterns to embellish this decorative autumn quilt. The long, skinny quilt is the perfect size for a wall hanging, but you could also use it as a fall table runner!
When you're ready to try some small quilted projects that are a bit more complex, try the "Crow on Berry Branch Applique" (p. 5), a detailed tutorial on making a block for applique quilts. The tutorial outlines the freezer paper applique method with step-by-step photos. You can use these free applique patterns to create a simple wall hanging or blocks for larger applique quilts.
Small Quilt Patterns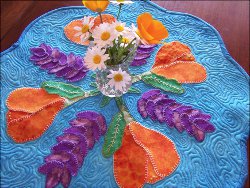 If you've never done piecework before, try starting off with one of our small quilted projects. 12 Awesome Free Quilt Patterns and Small Quilted Projects offers a nice selection of items to choose from. These free quilt patterns take just a day or two to complete and can easily be made with leftover fabric from other projects. Decorating your home with small quilted projects is a great way to show off your quilting skills and save money on interior design as well! Start with the "How to Make a Patchwork Pillow" (p. 45), which demonstrates the basics of piecing fabric squares, pressing seams properly, and matching up corners.
Update your home decor without ever having to step foot into another overpriced store by making these table toppers and table runner quilt patterns. The "Spring Table Topper" (p. 36) tutorial includes beautiful applique patterns for poppies and lupines that dress up this simple table topper into something spectacular! Make this quilt to usher in spring or celebrate summer. For something more modern, try the "Zigzag Table Runner" (p. 34) for a geometric table decoration. Choose three fabrics that coordinate with your kitchen or dining room colors to make the zigzag table runner!
Want to challenge yourself with free quilt patterns that are even smaller? There's the lovely "Baby Bird Quilted Wall Art" (p. 49) project, which is an adorable gift to make for an expectant mother or the new baby in your life. The small quilted and framed circle of fabric showcases bird and branch applique patterns and the baby's name appliqued and outlined in embroidery.

Download 12 Awesome Free Quilt Patterns and Small Quilted Projects for free today!
Patchwork Quilt Patterns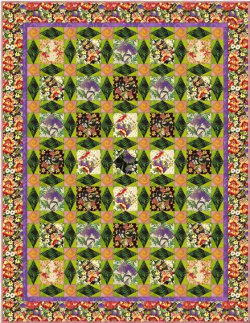 For quilters who are intrigued by the geometric patterns of piecework, we have included several patchwork quilt patterns in 12 Awesome Free Quilt Patterns and Small Quilted Projects. Whether you use a fabric cutter to make cutting go quickly or trim each piece of fabric by hand, you'll enjoy watching as the small pieces of fabric combine to create amazing piecework patterns! If you're new to piecework, start out with the Concentric Diamonds Patchwork Quilt. Its simple rows of diamonds are easy to piece, and the final effect is stunning! Patchwork quilts made from this pattern display a large variety of fabrics with an impressive overall effect. The entire pattern is made by sewing diamonds into diagonal rows, which are then pieced from corner to corner to make the quilt top.
If you're a more experienced quilter ready for the challenge of curved piecing, try the "Four Color Apple Core Throw" (p. 31). The simple repetitive pattern will help you to familiarize yourself with matching, sewing, and clipping curved seams. The apple core pattern is one of the most traditional of our free quilt patterns. This simple quilt with curved seams takes on an understated charm in the four varying shades of blue and gray. Apple core patchwork quilts make beautiful throws for the living room or bedroom.
A true beauty is the "Glorious Garden Floral Quilt" (p. 27). This free quilt pattern is commonly known as an ocean waves pattern, but Glorious Garden is the perfect name for this full size quilt made with floral fabrics. Decorate your room with a "bed" of flowers! Luxury fabric will create a lush effect that's going to make this one of the most amazing flower quilt patterns you've ever seen. The size fits a bed quilt perfectly, so you can appreciate your hard work every single day.

Click here to download 12 Awesome Free Quilt Patterns and Small Quilted Projects
What You Get with This Free Quilting eBook
With your free copy of the 12 Awesome Free Quilt Patterns and Small Quilted Projects, you can also subscribe to our Piecing It Together newsletter to become part of a helpful and friendly quilting community. In subscribing to the newsletter you will receive:

Four weekly e-mails with free quilt patterns, tips, collection pages, videos and more.
Chances to win quilting books and products in giveaways and contests.
New FREE patterns made available to you throughout the year.
Access to our free pattern library full of hundreds of free quilt patterns.
The opportunity to share ideas and help others in the quilting community.

Don't miss out on all these free quilt patterns! This eBook is provided to our readers at no cost, so you can print out the patterns and make beautiful quilted projects without breaking your quilting budget! Our applique quilt patterns also include free printable applique patterns so that you can copy and cut out as many applique templates as you need. Once you have downloaded the eBook and subscribed to our Piecing It Together newsletter, you will receive new free quilt patterns in your e-mail inbox every week! Join the FaveQuilts.com quilting community and gain access to hundreds of free quilt patterns and connect with quilters all over the country. Download this free eBook and check out FaveQuilts.com for tons of quilting inspiration!


Click here to download 12 Awesome Free Quilt Patterns and Small Quilted Projects
Your Recently Viewed Projects