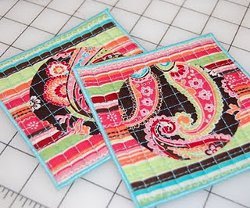 Paisley Drink Coaster
Although the Paisley Drink Coaster looks adorable with a striped background and a paisley applique, you can use any fabrics you have on hand in this quilted coaster tutorial. This is one of the quickest and easiest fusible web projects you can make! Be prepared for any visitors dropping in with these small quilt projects on your tables. They're easy to match to the color scheme of your home decor, and don't cost much to make, so you can make quilt applique coasters for any occasion.
Project TypeMake a Project
Quilt Size4.5 inches wide x 4.5 inches long
Time to CompleteIn an evening
Primary TechniqueApplique

MATERIALS:
(3) 5" x 5" squares of fabric in various prints or colors
(1) 5" x 5" square of batting
(1) 5" x 5" square of fusible web
Circular template or object for tracing applique
INSTRUCTIONS:
Trace the circle onto the applique fabric. Cut out the fabric. Trace the same circle onto the sheet of fusible.





Now, follow the manufacturer's directions and iron/fuse the circle onto one of your 5″ squares.



Lay the applique coaster top on the batting. I used the coaster top to cut my batting to 5″ square, matching the top.



Next, make a mini-quilt sandwich with the coaster top, the batting and a coaster back. Secure it with 4 straight pins.



It's ready to be quilted. For this project I did a sort of channel-stitched grid. I started in the corner.



Then I used my presser foot as my guide to sew in parallel lines across the whole coaster top.



Then I decided to go back and quilt perpendicular to those lines, in the same manner.

Just like quilting a larger quilt top, sometimes there's some stretching and shifting. This will leave the edges uneven.



Take the quilted coaster to your work surface and trim it to be 4-1/2″ square. Pay attention, so the circle will still be centered on the finished design.



Ready to finish the edges. Set your sewing machine to a mid-width zigzag stitch. I set my stitch length to zero (although it does still move ever so slightly, so "zero" is a misleading number here.)



Lay the coaster on your sewing machine, matching the cut edge up with your needle's center position. When you sew the zigzag stitch it will work like and "overcast" stitch on a serger.



Start stitching around the perimeter of the drink coaster to finish the cut edges.



I found, after one pass around the perimeter that the edges didn't look as finished as I'd like. To make the thread more dense and leave virtually no fabric showing through, simply make another pass around
the coaster, sewing over the zigzag stitches you've just created.


Your Recently Viewed Projects