12+ Free Christian Quilt Patterns
Discover darling cross quilt patterns, communion banners, and more faith-based quilting ideas and projects!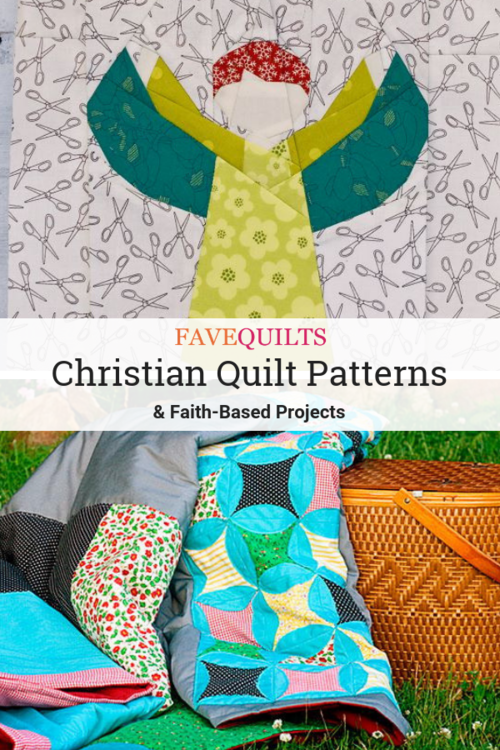 Christian quilts and cross quilt patterns are a longstanding tradition in the quilting community. Creating a quilt that celebrates your faith is a lovely way to bring some daily worship into your home. Whether you're making a wall hanging or something to cuddle under, these gorgeous free quilt patterns easily add some religious flair to your home. 

Find a little time to combine faith and quilting with these free quilting patterns. Quilts with Christian motifs are a lovely tradition to start in your family if you have not already.

Heirloom quilts are passed down from generation to generation. So, why not create something that showcases your family values when making quilts for your home?

We're sure you will find a faith-based quilting project to love from our selection of 11 tutorials below.
Crown of Thorns Block Pattern
This traditional quilt pattern is perfectly lovely and looks exquisite in pastels. Designed for Easter, this meaningful quilt design is understated and ideal for any quilt pattern. Consider combining it with blocks featuring other religious moments for something truly spectacular.

Get the pattern.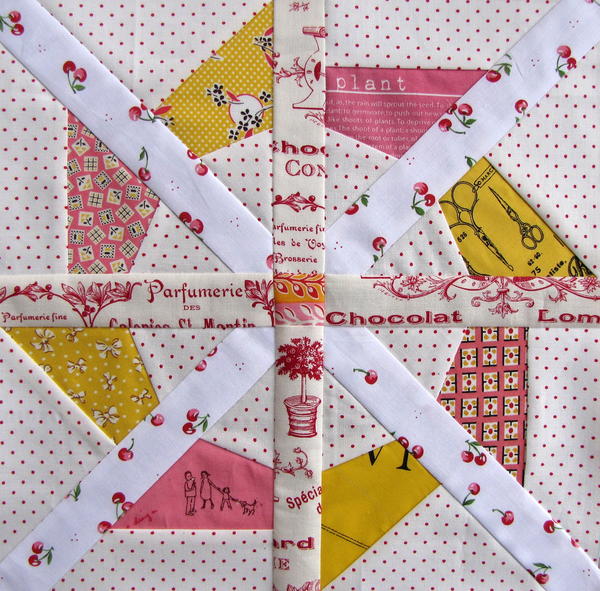 Celtic Cross Mini Quilt Pattern
This crisp and colorful mini quilt pattern features a classic Celtic cross pattern that truly shines! This darling little quilt would be the perfect quilt pattern for your tablescape, entryway, or even as a small, low-impact wall-hanging.

Get this pattern.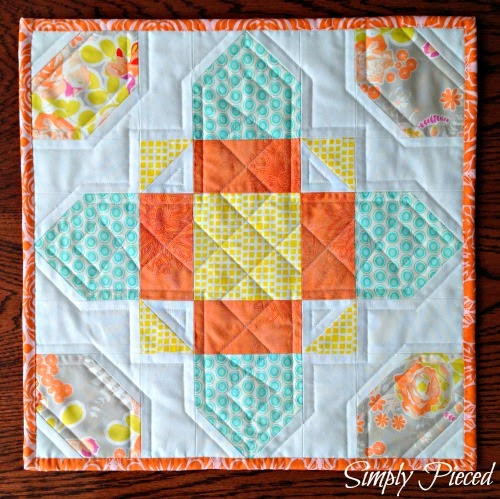 Church Picnic Quilt Pattern (Printable)
Featuring a gorgeous Cathedral Window motif, this darling picnic blanket is a traditional design with a modern twist. The bright and bold colors help it stand out while the more traditional design makes it absolutely gorgeous. Use this lovely pattern at your next church picnic.

Get this pattern.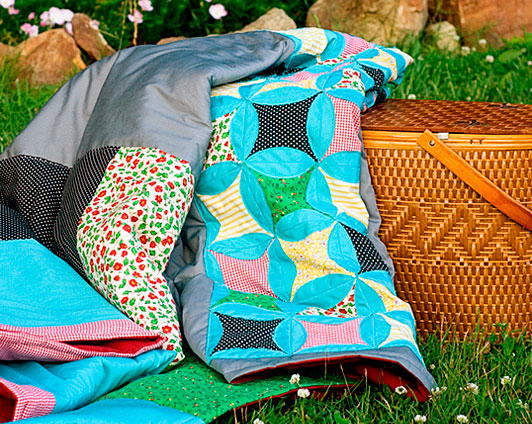 Abundance Quilt Pattern
One of the more modern quilt designs on this list, the Abundance Quilt Pattern features a colorful and repeating cross design that is hard to miss. Created with a strip piecing technique, this quilt is easier than it looks and makes the perfect lap or throw quilt.

Get this pattern.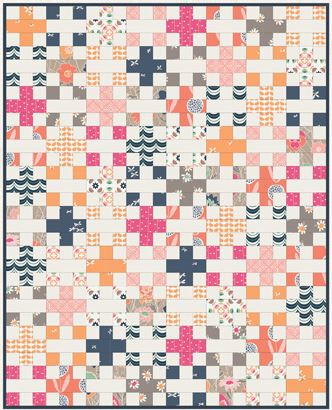 Cross Maze Block
Another stunning variation on classic cross quilt patterns, this modern block is a lovely way to show your faith in a contemporary way. Use a bright pink to really make your cross stand out or go with something more muted and subtle if you prefer.

Get this pattern.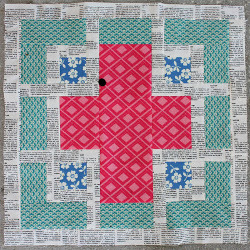 Glimma Crosses Quilt Pattern
Grab all the fat quarters and quilt scraps you can find to make this edgy and bright quilting pattern. This Christian quilt pattern features rows and rows of crosses in a multitude of colors, offering an eclectic mix of prints with it's faith-based design.

Get this pattern.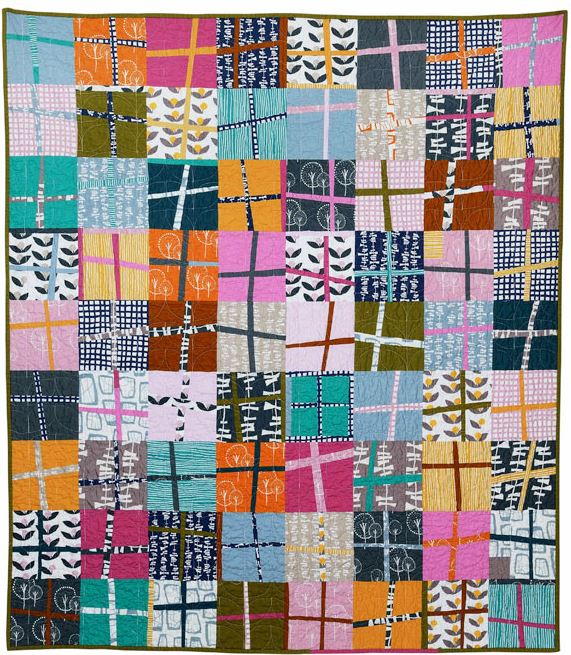 Christmas Angel Block Pattern
A list of classic Christian quilting ideas would not be complete without an angel pattern! This stunning and intermediate paper piecing pattern features a lovely angel in unique scandanavian design. Combine it with other simple blocks to make a full quilt or just make one for a simple pot holder.

Get this pattern.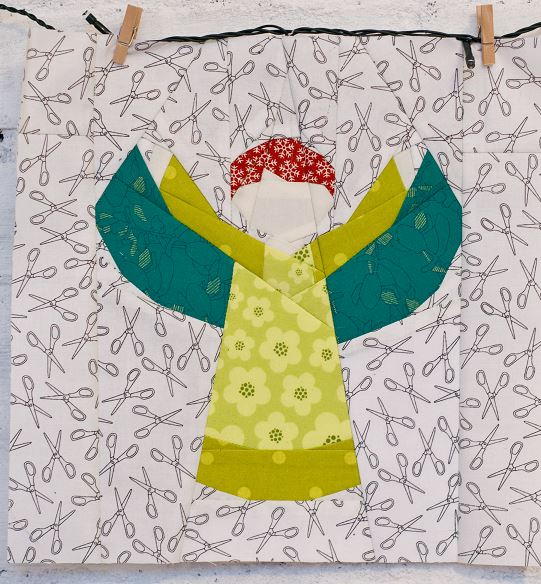 Angel Christmas Tree Wall Hanging
Looking for a low effort way to quilt some peace and love into your home? Then you will love these wall hanging quilts for beginners. These adorable angel quilts look lovely perched on your mantle, hung in your entryway, or displayed anywhere else in your home.

Get this pattern.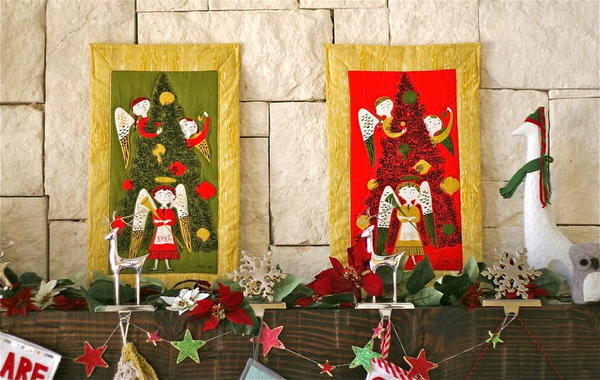 Christmas Star Quilt Block Pattern
The Yuletide star that announced the birth of baby Jesus is a beloved piece of Christian iconography. Skip the usual Christmas characters of elves and reindeer to make a quilt block that shows what Christmas is truly about. Peave and love shinging bright for all to see!

Get this pattern.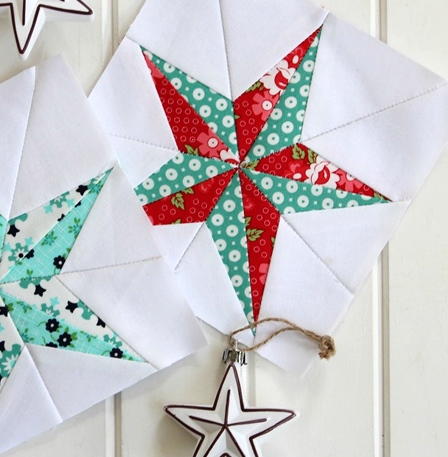 Last Supper Wall Hanging
Not for newbie quilters, this project from our friends at FaveCrafts is a stunning wall hanging that is perfect for your home or church. Created with fabric and lace, be sure to watch the video!

Get this pattern.
Appliqued First Communion Banner
Help your child make their special day even more festive when you create this appliqued first communion banner. This simple project is a great way for them to help decorate the church and make a keepsake for the cherished memory.

Get this pattern.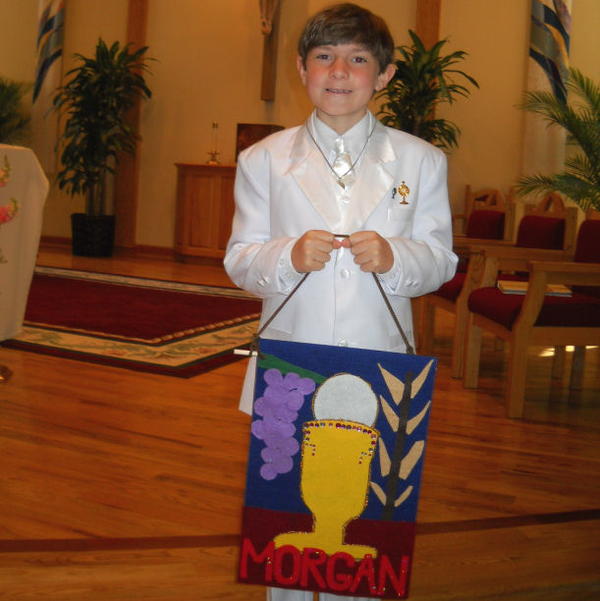 Faux Appliqued First Communion Banner
While this charming project is not a traditional quilt, it uses applique designs to achieve the final product. This is a communion banner you can make with your kids, making it extra special for their big day. Allowing them to choose what they'd like to display on the banner helps them think about why the church is important to them.

Get this pattern.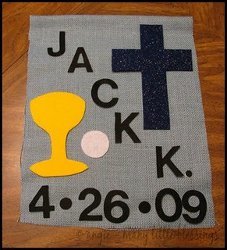 Quilted Bible Cover
If you bring your bible everywhere you go or cart it off to Bible study weekly, you might need a Bible cover. This small quilted project is simple to make and perfect for protecting a cherished Bible. This project uses fat quarters, lining, and interfacing so it's extra sturdy.

Get this pattern.
 
Your Recently Viewed Projects