15 Christmas Stocking Quilt Patterns
Add a little something special to your mantle this holiday season with these DIY quilted stockings!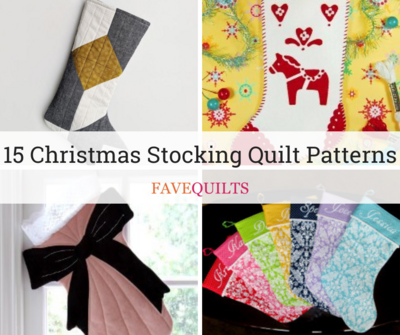 Hang your mantel with a row of homemade Christmas stockings with this collection of 15 Christmas Stocking Quilt Patterns. Quilted Christmas stocking patterns make for sturdy stockings that won't bulge unattractively when you pile in the stocking stuffers. That means you can heap more goodies into these stockings for your loved ones!

Handmade Christmas stockings make great gifts for friends and family members. The creative Christmas stocking patterns in this collection will you allow you to customize each stocking you make to fit the recipient's personality.

DIY Christmas stockings also provide you with a chance to take refuge from the cold weather. Sewing a stocking is easy, and you'll love to sip a hot chocolate by the fire while you do your work. Play a little holiday music to get yourself in the holiday spirit, too!


Sign up for our free email newsletter for more projects!
Table of Contents
Christmas Stocking Patterns for the Whole Family
These stockings are simple and will never go out of style. These Christmas stocking quilt patterns are ideal options if you'd like to make matching stockings for the whole family.
 
DIY Stocking Patterns for Kids
A handmade Christmas stocking is a wonderful gift to give a child. Imagine how happy your kids or grandkids will be to receive goodies every Christmas. These playful Christmas stocking patterns are geared more towards children, but some of them will carry your kids into adulthood too!
 
Quilted Christmas Stocking Patterns for Women
These Christmas stocking quilt patterns have a feminine flair that women and girls will love. Ruffles, bows, and other embellishments make these stockings extra girly.
 
Your Recently Viewed Projects