Banded Checkerboard Quilt Pattern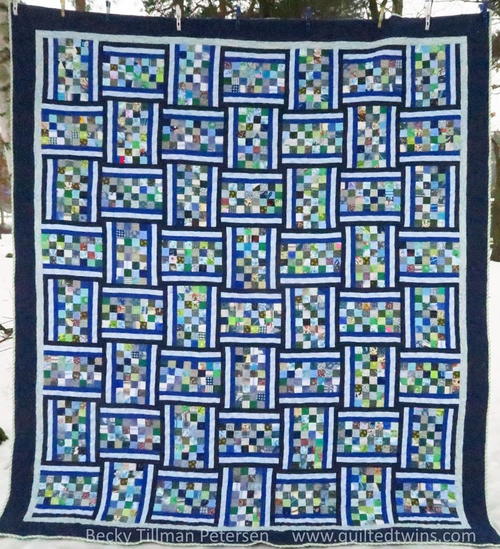 Banded Checkerboard Quilt Pattern
Create a beautiful bed quilt in rich cool colors with this quilt pattern that's ideal for charm packs or scrap quilting. This Banded Checkerboard Quilt Pattern uses a combination of patchwork and strip quilting, and finishes at the perfect size for a king bed quilt. Made in colors like royal blue, forest green, and aqua, this patchwork quilt pattern can be downloaded to your computer, and is a great way to use up any fabric scraps you have on hand. Put your patchwork skills to the test with this king size quilt pattern that intermediate quilters will love.
Project TypeMake a Project
Quilt Size97 inches wide x 109 inches long
Time to CompleteLonger than a weekend
Primary TechniqueQuilting

More Details on This Pattern:
Elevate Your Bed with the Timeless Charm of the Banded Checkerboard Quilt
Indulge in the art of quilting with the captivating Banded Checkerboard Quilt Pattern, a stunning masterpiece that effortlessly marries classic design with modern flair. This quilt pattern, featured prominently on FaveQuilts, unveils a world of creativity, texture, and comfort that will transform your bedroom into a luxurious sanctuary.

A Symphony of Symmetry and Color:
The Banded Checkerboard Quilt Pattern is a true testament to the timeless appeal of geometric design. Comprising alternating squares of rich, bold color bands and crisp white blocks, this pattern offers a striking visual contrast that captures attention and holds it in awe. The balance between simplicity and complexity creates a captivating quilt that emanates both harmony and energy, making it a focal point that enlivens your space.

Craftsmanship Redefined:
Creating the Banded Checkerboard Quilt is a journey in craftsmanship, guided by our comprehensive and user-friendly pattern. Designed for both seasoned quilters and those just beginning their creative voyage, the pattern details every step with precision and clarity. With detailed instructions and helpful tips, you'll embark on a seamless process of piecing, stitching, and quilting that ensures a rewarding and satisfying experience. As you watch the squares come together to form the mesmerizing checkerboard pattern, you'll witness the transformation of fabric into art.

Personal Expression Meets Bedding Luxury:
Your bed is more than a piece of furniture – it's a canvas for self-expression and comfort. The Banded Checkerboard Quilt empowers you to infuse your personal style into your sleep space. Choose from an array of color options, from soft pastels to vibrant jewel tones, to tailor the quilt to your aesthetic vision. As you layer it onto your bed, you'll witness the seamless blend of artistry and functionality. Not only does it provide warmth during chilly nights, but it also lends a touch of sophistication to your room's decor.

Unveiling Elegance and Versatility:
Versatility is the hallmark of the Banded Checkerboard Quilt Pattern. Whether your bedroom boasts a traditional, contemporary, or eclectic style, this quilt effortlessly adapts to its surroundings. It serves as a refined backdrop that complements a myriad of decor choices, allowing you to refresh your room's look without compromising on elegance. From a minimalist oasis to a vibrant boudoir, this quilt's understated elegance ensures it always shines.
Savor the Rewards of Handcrafted Comfort: Imagine slipping under the Banded Checkerboard Quilt after a long day, feeling the softness and weight envelop you in a soothing embrace. The quilt's carefully chosen fabrics and meticulous stitching result in a textile masterpiece that offers more than just visual delight – it's a source of physical and emotional comfort. Experience the luxury of handcrafted bedding as you bask in the coziness and revel in the satisfaction of knowing that your creation has elevated your sleep experience.

Craft Your Legacy, One Stitch at a Time:
Beyond being a cozy accessory, the Banded Checkerboard Quilt represents a tangible testament to your creativity and dedication. Every stitch is a thread of your passion, every square a piece of your heart. As you quilt, you're not just crafting fabric – you're weaving memories and leaving a legacy. It's a creation that tells a story, a story of meticulous workmanship, boundless imagination, and the joy of transforming simple fabric into an artful masterpiece.

Incorporate the Banded Checkerboard Quilt Pattern into your bedroom, and witness the transformation of your space into a haven of style, comfort, and creativity. Embrace the fusion of classic design and contemporary elegance, and embark on a quilting journey that will leave you with a treasure that lasts a lifetime. Explore the pattern today on FaveQuilts and embark on a voyage of creativity that turns your bed into a canvas of unparalleled beauty.
Your Recently Viewed Projects