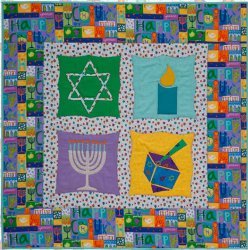 Chanukah Sampler Quilt
As soon as you see this Chanukah Sampler Quilt, you'll add to your list of holiday quilting projects right away! This fun quilt features fabric printed with Chanukah greetings and applique patterns for a menorah, dreidel, candle, and star of david.
Project TypeMake a Project
Quilt Size38 inches wide x 38 inches long
Time to CompleteWeekend project
Primary TechniquePieced & Appliqued

Materials:
Note: This pattern uses fabrics from the Chanukah Hallmark collection by Hallmark from FreeSpirit. Fabrics are coded in materials list.
1 ¼ yd. HM67 in gold for outside borders
¾ yd. HM68 in aqua for center background
1/3 yd. S17 in green for block background
1/3 yd. S07 in yellow for block background & candle flames
1/3 yd. S04 in lavender for block background
1/3 yd. HM72 in grey for menorah
2/3 yd. S20 in aqua for block background, menorah stars & binding
¼ yd. HM69 in blue, green & purple for dreidel
1 ¼ yd. HM66 in multi for backing
45" x 45" batting
½ yd. Heat'N Bond Lite
Instructions:

Cutting:
Cut a square 25 ½" x 25 ½" for the quilt center.

Outside border fabrics are directional, so cut 2 strips 6 ½" x width of fabric and then trim to 6 ½"x 38". These will be the top and bottom borders.

From the remainder of the fabric, cut 2 strips lengthwise – 6 ½"x 25 ½". These will be outside border sides.

Cut 4 strips 2 ½"x width of fabric for binding.

Cut 4 squares of the solids for block backgrounds – 10" x 10".

Cut 1" strips of Heat'N Bond Lite and press on the outside edges of the wrong sides.
Construction:
Sew side borders to the center square. Then sew on top and bottom borders.

Trace all patterns for fusible appliqué onto the paper side of the Heat'N Bond Lite.

Press Heat'N Bond to the wrong side of the desired fabrics and cut out.

Wavy cut the outside edges of the solid block background pieces, then remove paper before placement. Peel paper from cut out designs and place on background blocks per quilt photos.

A variety of appliqué techniques is featured –



Dreidel – needleturn appliqué

Single candle – machine blanket stitch appliqué

Menorah – fused appliqué

Star – bias tape needleturn appliqué – great to use a bias tape maker!!
Layering:

Sandwich top, batting & backing and quilt as desired. Bind & enjoy!!

Your Recently Viewed Projects