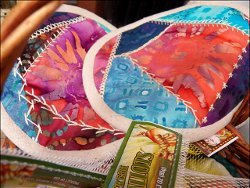 Free quilted pot holder patterns get a Victorian twist with a crazy quilt spiral of fabric scraps and signature crazy quilt embroidery. Make these Crazy Quilt Pot Holders with any combination of fabric scraps for a colorful finished project. Be sure to use insulated batting so these hot pads are safe for cooking!
Project TypeMake a Project
Time to CompleteIn an evening

MATERIALS:
scraps of fabric
small amount of backing fabric
Insul-Bright insulating material
about a yard of double-fold extra wide bias tape for each potholder
embroidery floss

INSTRUCTIONS:
Decide how big you want your potholders to be. I wanted a round shape on the smaller side and used a salad plate for a template. Measure the dimensions of your template and cut 4 pieces of backing fabric.



Cut your first shape and place it in the center of your block. I used a square, but any shape will do.



Sew around the edges, very close to the edge.



You're going to want to cover all the edges of your first piece. I laid this long blue piece on top of the first square (right sides together), sewed it on about 1/4 inch in from the edge, folded it up to hide the seam, and ironed it flat.



Repeat with the next side.



And the third side.



And finally, the last side. I forgot to take a picture of this piece folded back and ironed, but by now you probably get the idea!



Add additional pieces to cover up all of the background fabric and to add new interesting shapes.





Trace around your template.



Cut out your shape.



Use 6 strands of embroidery floss to cover the seams. There are lots of good sites on the Internet that have good instructions on many embroidery stitches.



Place the embroidered circle on one of the pieces of Insul-Bright and place this on top of a backing piece.



Pin and cut out.



Pin on bias tape, right sides together, and connect the ends. Sew the bias tape onto the pot holder.



Turn bias tape to the back, pin, and hand sew in place.



Tada! New potholders!


Your Recently Viewed Projects