Think Big: Quilts, Runners, and Pillows from 18" Blocks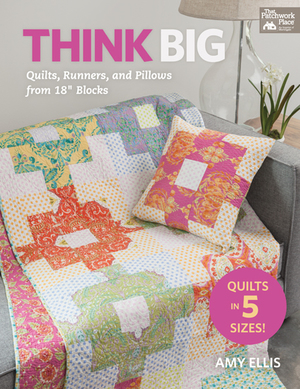 Think Big: Quilts, Runners, and Pillows from 18" Blocks
Gifted by: Martingale
www.martingale-pub.com
Reviewed by Jeanette Benoit, Editor, FaveQuilts
Think Big: Quilts, Runners, and Pillows from 18" Blocks by Amy Ellis features 10 different block patterns, each with six different sizing options included: Runner (which use 3 to 6 blocks), Baby (9 blocks), Throw (12 blocks), Twin (20 blocks), Queen (25 blocks) and King (30 blocks).
If you want to make more than one item using a particular block pattern, this book helps you do that! To help you achieve a cohesive look for your home, each block pattern is shown in two or more coordinating projects such as quilts, pillows, and runners. You don't always need to make a large quilt to upgrade the look of your home. Instead, use your quilting skills to first create a smaller piece, such as a pillow or a table runner. Making small scale pieces like this is often a great way to "test drive" a block pattern before turning it into a larger project, such as a king-size quilt.
Choose from 10 different block patterns including: Connections, Mod Pod, Equalizer, Moving Mosaic, Tilt-a-Whirl, Intersections, Puzzling, Downtown, Filmstrip, and Building Blocks. All of the designs are so gorgeous, it will be hard to decide which one to start with! But before you dive into the deigns, Ellis advises readers to read through the "Using This Book" section (pg. 7) first, which provides helpful tips and tricks you will need as you customize your quilt designs.
Your Recently Viewed Projects