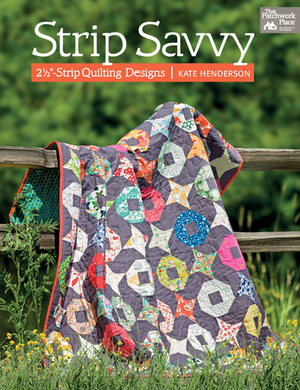 Strip Savvy
Gifted by Martingale
www.martingale-pub.com
Reviewed by Jeanette Benoit, Editor, FaveQuilts.com

BONUS! Enter here to win a copy of this book in the Essential Quilting Book Bundle giveaway. Contest ends 3/29/15

Use your leftover fabrics scraps or use precut fabric scraps to create the unique quilting patterns inside Strip Savvy. This 80-page pattern book was created because author and designer Kate Henderson found herself living far away from her local fabric store. She learned how wonderful precut fabrics can be to work with, and how fun it can be to sort fabric into new and unique color combinations. Specifically, cutting her fabric into 2 1/2 inch strips allowed her creativity to run wild and proved how limitless her options were when it came time to mix and match her precut fabric strips.
Inside Strip Savvy, you will find a collection of quilting patterns that are perfect no matter what your quilting skill level is. The book is divided into two main chapters: Quilts with Borders and Borderless Quilts. Choose from a variety of fun designs such as Snowball Explosion (pg. 22), Summer Picnic (pg. 28), Fireworks (pg. 57), That '70s Quilt (pg. 66), and more. each pattern includes full-page color photographs of the finished quilt, as well as step-by-step instructions (with assembly diagrams) to help you complete the quilts with ease.
Before you even get to the patterns, however, there's also a General Instructions chapter, which is helpful for all quilters, but especially for those that are new to working with precuts and fabric strips. The best thing about working with pre-cuts and strips is that no one's quilt will ever look exactly the same. You can completely customize the look of your quilt by simply changing up the fabric and overall color scheme. Let the quilt patterns inside Strip Savvy simply serve as the "ground work" of your quilt design, and allow your imagination to create a unique-looking quilt of your very own!
Your Recently Viewed Projects