Peppered Cottons Jelly Roll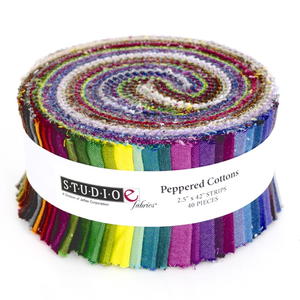 Peppered Cottons Jelly Roll
Gifted by: Studio e Fabrics
www.studioefabrics.com
Reviewed by: Dana Byerwalter, Editor, FaveQuilts.com


Your favorite cotton fabric line is here in jelly roll form! Peppered Cottons by Pepper Cory is a lovely fabric collection that provides just enough of an offset from solid colors to add subtle interest to your quilts. "Shot" through with two colors of thread in each of the fabrics, the colors in this Studio e collection are nearly considered the solid color category but also show a nice variation.

Depending on which two thread colors weave together, the fabrics in this collection can look almost perfectly solid or have a nice contrast. For example, the Sand color appears to be one solid, neutral color at a glance, but upon further inspection the white and brown threads offer a soft contrast to one another. Meanwhile, the contrast between other colors in the collection is far more distinct! The Char-Gold color features black and yellow threads woven together to form a vibrant yet reserved fabric. Depending on the warp (lengthwise threads) and the weft (side-to-side threads), the thread colors chosen can create a unique effect in the overall color of the fabric.

In general, jelly rolls are incredibly useful supplies for the sewing stash, particularly when it comes to quilt making. A jelly roll allows quilters to use a nice sampling of every fabric from a particular collection to make a project. The convenient 2.5" x 42" size is great because it is precut for a variety of quilt projects! Quilters can easily arrange the fabric strips in many ways to think about color scheme and layout.

Jelly rolls aren't just for quilters! Sewists can use these fabric cuts for any project that requires narrow swatches. Create a quilted bag, skirt, pillowcase, and any number of sewing projects featuring these handy strips of coordinating fabrics.

For a fun twist on classic cottons, try Peppered Cottons from Studio e! The slight variances created from two different thread colors shot throughout are beautiful, eye-catching, and lovely for your next project.

Your Recently Viewed Projects