Cottage-Style Charm, Miss Rosie's Farmhouse Favorites, Simple Friendships Book Reviews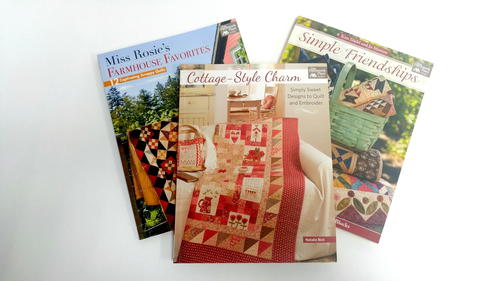 Cottage-Style Charm, Miss Rosie's Farmhouse Favorites, Simple Friendships Book Reviews
www.shopmartingale.com
Reviewed by , Editor, FaveQuilts.com

Is there anything as sweet as a quilt with old-fashioned cottage charm? These quilt pattern books from Martingale are filled with cozy inspiration for a humble homestead theme.

Cottage-Style Charm is the quilting book for you if you love cozy quilting themes that have a country chic theme. These projects remind me of grandmother's house, in a good way. They are so sweet and inviting! The photos show that you can style the quilting décor in this book with friendly-looking cream and farmhouse red, but you can definitely put a personal spin on them with your own color palette. There's a modern embroidery element to these that makes them feminine and special. Make a table topper, pincushion, tote bag, wall hangings, and more.

Miss Rosie's Farmhouse Favorites is another great piece of quilter eye candy. If you're a fan of very creative scrappy quilts, you'll love this collection of quilts in the style made famous by Miss Rosie's Quilt Company. The photos are very inspiring and show what you can do with even the smallest scrap of fabric. Hint: the designer very much believes in the power of triangles, which she admits to and will show you how to use them to get the most from your scraps in this cheerful book. The photos are also bright and inspiring.

Simple Friendships will make you want to throw a block party! Quilt blocks, that is. The authors show you a variety of ways you can use shareable, classic quilt blocks in fun, inspiring ways. You can make classic blocks and then exchange them with friends, which is why this book might make you want to get your friends together for a quilting party.
Your Recently Viewed Projects