Just Color! Fabric from Studio e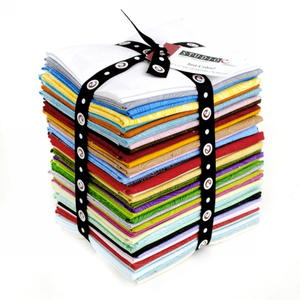 Just Color! Fabric
Gifted by: Studio e
www.studioefabrics.com
Reviewed by Kathryn Wright, Editor of FaveQuilts.com


With hypnotizing swirls and a vibrant variety of hues, the Just Color! Fabric from Studio e will surely make any quilt even more aesthetically pleasing and mesmerizing. The complement created between the lush primary and secondary colors creates a refreshing look that suits both classic and contemporary designs. This fabric collection is the best of both worlds beautiful colors that easily match basic schemes that also have that perfect hint of artistry in the patterns within it.


As one can see from the image shown left (of the Aegean Blue color), the colors and the pattern are working in perfect harmony. Not only will your quilts be breathtaking for the vivid display of color, but also for the endless swirls that will easily draw anyone in closer to admire your work. No matter where the Just Color! fabric is used within your quilt, it is sure to bring the best out of it. You can draw more attention to your borders with this graceful, curvy design, or offset a solid fabric without adding too much of a strong pattern. This line is a great alternative to pattern with really strong prints; this way, you still get a present base for your color scheme, but also intricate detailing that makes the line feel more individual.


When I look at each fold within the bundle and feel the quality material made with 100% cotton, I can't help but think of all of the possibilities there are. Not only can you use these gorgeous fabrics as part of a quilt pattern (see our review of Studio e's "Ocean View" pattern), but also as part of your everyday decor. Studio e provides lush colors in both light and dark shades, which means practically any style of home decor can be updated with this fabric line. Dress up your table, brighten up a wall, or even give an accessory a little more power by including one of these fantastic patterns.
Your Recently Viewed Projects