Joie de Vivre Fabric Collection Review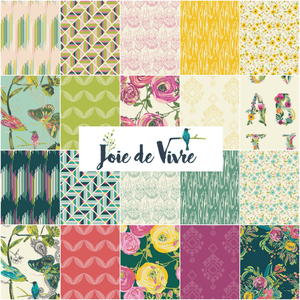 Joie de Vivre Fabric Collection Review
By: Bari J.
Gifted by: Art Gallery Fabrics
www.liveartgalleryfabrics.com
Reviewed by: Dana Byerwalter, Editor, FaveQuilts.com

Say hello to one of the most cheerful fabric lines ever! The Joie de Vivre Fabric Collection by Bari J. is a simply gorgeous roundup of brightly colored fabrics in a wild array of designs. From flowers to pugs to geometrics and more, this collection from Art Gallery Fabrics will absolutely enrapture you.

I simply cannot get enough of the beautiful patterns in this collection. One of my absolute favorite fabric lines, Joie de Vivre charms to the smallest detail. Each print title features both French and English words: my favorite "Frenglish" titles include Joyeux Alphabet, Petit Potpourri, and C'est la Vie Spring and Winter. The collection is divided into two groups: Printanier Sun and Hivernal Cloud. Nine of the prints come in two colors (18 SKUs) and two unique prints round out this collection for a total of 20 stunning fabrics to choose from. Or, don't choose! A fat quarter bundle will give you a delightful overview of the patterns in this collection.

Despite an eclectic feel, the 20 prints go marvelously well together. You may not think pugs match butterflies, but Joie de Vivre proves you wrong. In your sewing or quilting projects, you can focus on the summer or winter prints, or you can mix and match them all! Endlessly amazed by the variety of prints, I simply love that Bari J. brought them together in a way that harmonizes beautifully. She made jewel tones work for winter, butterflies work with geometrics, and pugs work with flowers. An adventurous pattern is yours for the making with this stunningly gorgeous collection.

If you're looking for a project that will brighten your mood just by looking at it, be sure to check out the Joie de Vivre Fabric Collection. Inspire joy when you make gifts from this fabric, and make a little something special for yourself, too!

What images inspire joy in your life?

Your Recently Viewed Projects