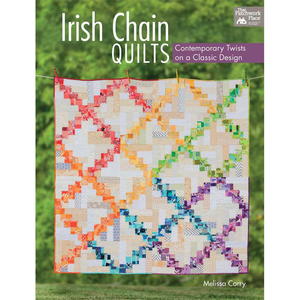 Irish Chain Quilts
Gifted by: Martingale
www.shopmartingale.com
Reviewed by Madison Bowes, Editor, FaveQuilts.com
In Melissa Corry's Irish Chain Quilts, you will be immersed in beautiful and easy to make patterns. Known for their diagonal patterns and use of color, Irish Chain quilts will soon become your new favorite patterns to make. Corry teaches you how to use all kinds of shapes while making quilts, including flowers, triangles, and dots. As you look through the fifteen patterns included in the book, you will be taken by surprise at how many different faces the same type of quilt can take.
If you want to fall in love with quilting, Irish Chain is the perfect place to start. Since the Irish Chain is known for its easy to piece patterns, it is a great way for a novice to really dive into quilting. With so many options for colors and a style that is always pleasing to the eye, anyone can make a gorgeous project. Whether you like the classics or are ready to go contemporary, this book has a section suited to fit your needs: "Twist on Tradition", "Modern Patchwork", "Improvisational Piecing", and "Appliqued Chains" make up the table of contents.
The "Charm Bracelet" pattern on page 44 is my favorite from the book, and it is from the "Improvisational Piecing" section. I really like this pattern because of its mismatched look; when I think of quilting, I think of a perfect pattern that I will, without a doubt, mess up. This quilt, however, has a charming pattern that you still have to piece, but that doesn't need to look perfect. As long as the sizes and colors are balanced, this quilt will look gorgeous no matter what.
Your Recently Viewed Projects