Graphic Quilts from Everyday Images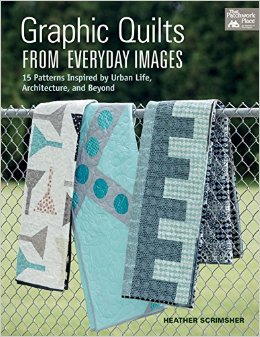 Graphic Quilts from Everyday Images
Gifted by: Martingale
www.shopmartingale.com
Reviewed by Madison Bowes, Editor, FaveQuilts.com
Inspired by the world around her, Heather Scrimsher takes in her surroundings to create gorgeous quilt designs in Graphic Quilts from Everyday Images. In fifteen amazing patterns, Scrimsher shows us how to use our everyday inspirations as creative fuel; by placing the images the quilts are modeled after next to the pattern, we are able to see where she comes from while designing. Chain link fences, church steeples, and stone paths are just a few of the things we see daily that Scrimsher turns into pretty, cozy quilts.
Divided into three sections, "Enlarged Detail", "Blocks and Repeats", and "Lines and Strips", you will easily find what you are looking for. If you want something more abstract and less obvious to what the inspiration is, look in the "Enlarged Detail" section of the book. My personal favorite section, these quilt designs are close-ups of Scrimsher's inspirations, and you cannot tell what the objects may have been by looking straight at the designs. I prefer this because although designs made from martini glasses are pretty and make for a nice quilt, I prefer designs that are more subtle.
My favorite design from the book is on page 13, and is called "Interlinked". In a pink, purple, and grey design, you would never know the inspiration for this project comes from a chain link fence. Scrimsher zoomed in on a single link to recreate in her quilt, and it turned into an art deco print that I want to pin up on my wall.
Your Recently Viewed Projects