Arizona After Fat Quarter Collection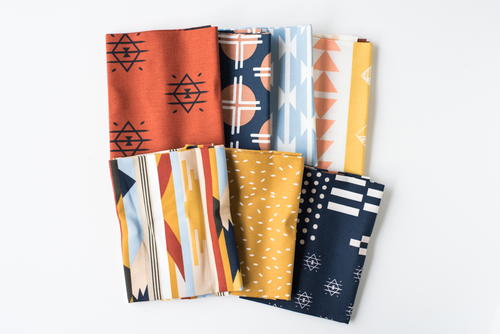 Arizona After Fat Quarter Collection
www.liveartgalleryfabrics.com
Reviewed by zzz Christine zzz Weiher, Editor, FaveQuilts.com

Finding the perfect fabric for your next project can be difficult if you don't quite have something in mind. To help with your decision, Art Gallery Fabrics carries the Arizona After fabric collection from April Rhodes."April revisits the warmth and magic of the southwestern spirit with Arizona After. A mesmerizing traveler's paradise is created with sky blues, earthy tones, and the breathtaking shapes of the land."
 
 
When working up your next project, whether it's a quilt, a dress or a handbag, you'll love looking at the patterns from this collection. You'll quickly think of Aztec designs and realize how truly beautiful these fabrics are. The complementing colors really do take you on a mesmerizing adventure. You can mix and match each of the fabrics with each other or you can pair them with solid fabrics.
 
 
April learned to sew when she was 8 years old and her passion quickly grew. Wearing what she created gave her a sense of fulfillment that drove her to create garment patterns for women. Knowing that the sewing community thought highly of her first pattern, The Staple Dress, gave her an amazing feeling that keeps her creating beautiful designs and patterns.
 
 
If you just stare at the Arizona After collection for a minute, it will take you on a journey that makes you see the beautiful desert sand, the warm blue tones of the sky and the peacefulness of the sun all in just one simple piece of fabric. This collection is made of high-quality fabric, has unique features and will turn your project into your new favorite piece.
Your Recently Viewed Projects