17 Quilting Tutorials: Quilting for Beginners and Top Tips for How to Quilt
Bonus: Get our newsletter & special offers for free. We will not share or sell your email address. View our Privacy Policy

What Thread to Use for Quilting
Figure out the best thread for quilting with page that explains all the thread types.
By:
Krista Childers for FaveQuilts.com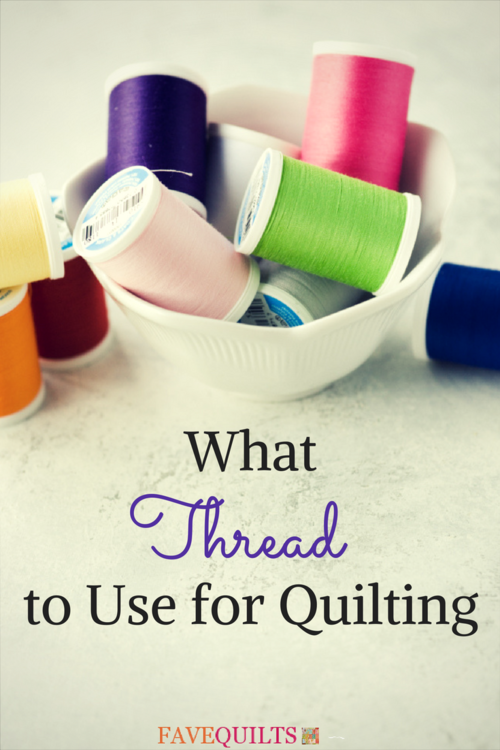 When it comes to the best thread for quilting, how do you choose? There are a lot of decisions to make and factors to consider. There's also the issue of whether you are looking for thread for machine quilting or hand quilting. Many of these thread tips are helpful for any sort of sewing, so keep this handy for your non-quilting sewing projects, too!

The best threading for quilting is generally a cotton or polyester-cotton blend. Avoid cheaper polyester threads as they are more likely to break or snap over time. The weight of your thread depends on your fabric and pattern. Thicker fabrics or quilts with more layers of fabric need a thicker weight (or stronger) thread.

First, we will discuss thread in general, looking at the terms associated with thread and how it's measured. Then we will go into the common thread materials each thread type from which each is made.

We will then focus on types of thread you will see when looking at thread spools along with the types of thread that are readily available. Some are great for quilting and some are not as fitting.

Finally, we will focus on the best machine quilting threads as well as the best threads for hand quilting. So, start reading and get ready to learn all about thread in relation to quilting and choosing the best threads for your upcoming quilt projects.

Table of Contents
Thread Basics
Thread Material
Types of Thread
Best Threads for Machine Quilting
Best Threads for Hand Quilting
Conclusion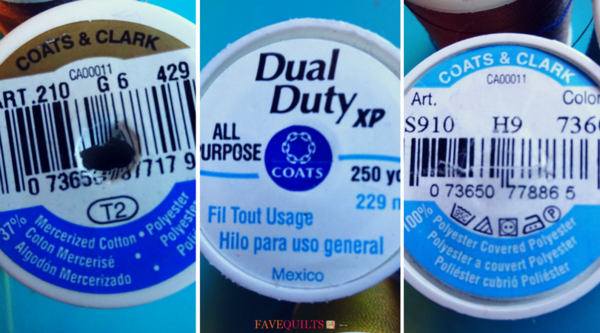 Thread Basics
You may recognize some of these terms when shopping for thread for quilting. The weight, as well as the denier and tex are measurement tools and terms.

All of these terms are important in the production of thread. Although it's great to know the terms, most thread manufacturers do the work so you don't have to pay much attention to these aspects when looking at what thread to use for quilting. The more important factors in choosing the best thread for quilting is mentioned in the following sections, with material and type.

 
Weight
The weight of thread is important. It is abbreviated as "wt" and the higher the number means the finer and thinner the thread is. If you are like me, then you may think it would be the opposite! This means that a lightweight thread might show 50 wt or 60 wt but a heavy thread may show 20 wt or 30 wt.

In Japan, where this concept originated, the "Gunze" count system is used. The Gunze count system shows the weight, a forward slash, and then how many strands were combined for that particular thread type. It would look like #50/3 for a 50 wt and three-strand combination.


Tex
Tex is the density of the fibers in thread. The measurement is mass in grams per 1000 meters for each gram. Larger tex numbers mean heavier threads. Either denier or tex is used for the density of thread. Tex is more common in European and Canadian manufacturing.


Denier
According to Merriam-Webster, denier is defined as, "a unit of fineness for yarn equal to the fineness of a yarn weighing one gram for each 9000 meters. 100-denier yarn is finer than 150-denier yarn."

So, when it comes to denier (sometimes abbreviated as "d"), the thicker the yarn or, in this case, thread, the higher the number. As mentioned above, either denier or tex is used for the density of thread. Tex is more common in European and Canadian manufacturing.


Thread Conversion Chart
WEIGHT (wt)
TEX
DENIER (d)
1 kilogram
[x] grams
[x] grams
[x] kilometers
1000 meters
9000 meters
wt to tex = 1000/wt
tex to wt = 1000/tex
d to wt = 9000/d
wt to d = 9000/wt
tex to d = tex x 9
d to tex = d x 0.111
40 wt = tex 25 = 225 denier
The Thread Conversion Chart above shows how the thread is calculated using those three units.  
Thread Material
There are many threads available. Below, we have featured more of the most common in sewing and quilting. You may see a blend of two or more of these, which is nearly always a benefit as it combines the strengths of the fibers to make a better thread.

Cotton: Spun from the cotton plant, this is one of the most common threads. It can be used in most sewing projects because it fits a variety of purposes.

Linen: Linen is usually spun into a heavier thread. This thread material is sourced from the linen plant. It is sometimes coated in wax, which helps its durability.

Nylon: Nylon is incredibly strong but is susceptible to heat. It will melt if the temperature gets too high because it is synthetic elastic.

Polyester: Like nylon, polyester is a synthetic, but it is not quite as strong as nylon. It is stronger than cotton and highly resilient to most fabric/thread issues, like linting, shrinking, and melting. It is a remarkably flexible fiber.

There is also a cotton/polyester blend that is common and popular because it has the benefits of both types; the appearance of cotton with extra strength but also flexibility.

Rayon: Another synthetic, rayon is usually used in embroidery threads. However, it tends to be vulnerable to color fading over time or through washing.

Silk: Silk is super strong but fine. This thread type is uniquely sourced from silk worms and has a high sheen. Because it is so thin, it is frequently used for detailed sewing projects, like appliques.

Wool: Wool thread is heavier and not as smooth as some other threads in texture.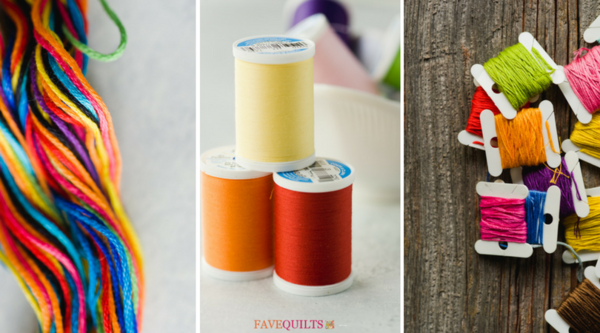 Types of Thread
Like with material, there are more than the types detailed below, however, these are the most common you will find when shopping for thread for quilting.

All-Purpose: When you see a thread labeled as "All-Purpose," it's probably a safe bet for most anything you will be sewing. It's often cotton or a cotton blend. If you specifically need thinner or thicker thread, this would not be the type you want.

Bobbin: You can find bobbin thread pre-wound and ready to pop on your bobbin, sold as regular spools, or in larger quantities spun on cones. It is a thin embroidery thread for machines that use bobbins.

Decorative/Metallic: A popular decorative thread may be labeled "metallic." This thread type involves coating the thread strands with a thin layer or metallic color, glitter, or texture. Sometimes all three.

Embroidery: Embroidery thread can be made of many different materials including cotton, polyester, rayon, and silk.

As the name suggests, this thread type is meant for use with embroidering, which can be done by hand or machine. Embroidery thread is available in various colors and is usually sold in small skeins.

"My go-to thread is Gutermann Sulky. I quilt all my own projects on my domestic and I love this thread. It suits my dense quilting style without over powering the fabrics or the design and it has a lovely silky texture which captures the light, giving my quilts a little shimmer." — Rose Johnston from Threadbare Creations
Fusible:
Used in applique and binding, this thread fuses anything it's connected to when heated (most likely with an iron). This is helpful when using it for that purpose, but should be avoided if not.
Piecing:
This thread is made for (you guessed it) piecing projects. It is often made of cotton because cotton has a high tolerance for heat. This thread is regularly made to lint less than some other types.
Serger:
Sold in large quantity cones, this thread is made for serger sewing machines. Polyester is a popular material for this thread type but it comes in a variety of materials and colors.
Quilting:
This thread type is nearly always made of cotton, polyester, or a blend of the two. It is strong and does work for both machine and hand quilting. You may think this thread would be ideal for all quilting projects but that may not be the case.
Although it's a great option, it's similar to the case of "all-purpose." This thread type probably works for most but might not work for all.
Water-Soluble:
As the name suggests, this is a temporary thread. It will disintegrate when combined with water. This is beneficial when basting quilts or to temporarily hold pieces together without having to later go and pick out the thread. Otherwise, this is not a desirable thread for quilting.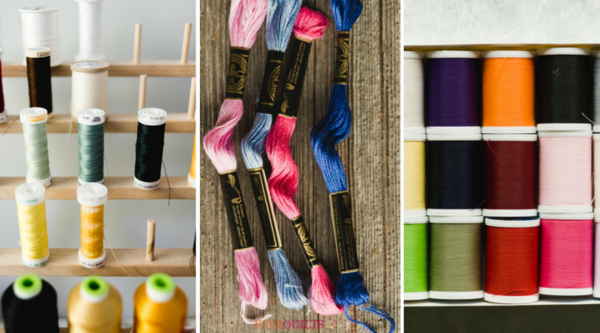 Best Threads for Machine Quilting
Now that we have gone over the materials and types of thread, what machine quilting threads should you use?

Andy Knowlton from A Bright Corner says,

​"I have two different machines and they each prefer a different thread. What works in one machine will break easily in another machine, so don't get caught up on buying a certain brand because everyone else recommends it. Find out what works best with your machine. When choosing colors, I try to match when I can and then choose a thread that is slightly lighter. When I'm using a variety of prints and colors my go-to thread color is an off-white."
So, it's important to know your machine. If you have a serger, then serger thread or thread spun onto a cone is a good choice. Likewise, machines with bobbins should use bobbin thread. Manufacturers make these threads specifically for these machine elements.
Besides color choices available, you may see different materials and weights offered. Choose high qualities materials like cotton, polyester, or rayon. Synthetic fibers tend to be stronger, which means they can handle machine sewing. If you want stretch, then choose a thread with elasticity, like polyester or nylon or a blend, such as cotton/polyester.
"When I am piecing on my home machine I love to use Aurifil 50 Weight thread. I love how it glides through my machine, leaves very little lint, and is thin enough to leave me a flat seam every time but still strong enough to hold my stitches. I don't get too fancy with my thread colors when piecing, I mostly just use off white for everything. But I do love to pull out my Aurifil 50 weight colors when doing machine applique, it blends away perfectly." — Melissa Corry from Happy Quilting Melissa
Medium weight thread is best but it is dependent on your machine and project as some allow for heavier threads and some for lighter. Make sure you read your machine guidelines as well as your pattern materials before choosing a thread. When it comes to long arm quilting, there are similar options for choosing.
Melissa
also says,
​"When I am on the long arm I use Superior Threads. I am super fortunate that the Superior Threads warehouse is just a 40-minute drive down the road, so I can actually see the colors and feel the threads before I purchase them. I mostly use So Fine in the top of the long arm and Omni in the bobbin of the long arm. I love how So Fine blends the quilting away into the quilt top, not taking away from all of my piecing, but just adding to it. My favorite color is 402 Pearl. It is the absolute best on white backgrounds!!! And if I want to highlight a certain part of the quilt I will use Magnifico thread as it has a slight sheen to it and just adds that little wow factor."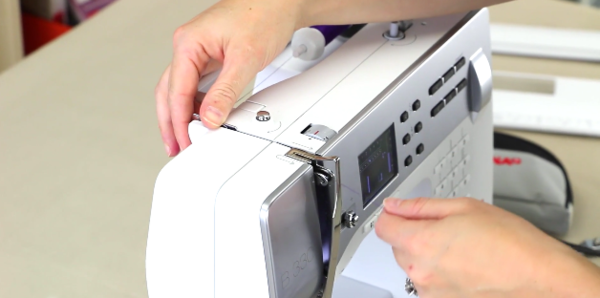 Best Threads for Hand Quilting
As mentioned previously, both all-purpose and quilting thread are both safe choices when looking at thread for hand quilting. Choosing the best hand quilting thread is highly dependent on what you are sewing. If it's an applique part of the quilt, then stick to thin threads, particularly those labeled for applique. If you are piecing, it's the same. Piecing thread is labeled as such and would be best for that.

A heavyweight fabric or bigger project is more stable when made with sturdier thread, so make sure you are getting thread with a lower weight number. A heavier thread is also good if you tend to pull or break thread easily. However, a heavier thread may need a larger needle, so keep that in mind with your fabric types.

Smooth thread, like silk or polyester, is best for hand quilting because it will move easily through the layers without tugging or you having to pull. Though, the thinner the thread, the less visible the stitches will be. If you want to hide stitches, match the color to your fabric but also use a thinner thread. If you want noticeable stitches, a stiff or heavy thread is better, such as embroidery thread. You also have the option, especially when using embroidery thread, to sew with multiple strands.

Specialty threads, like the decorative metallics, are made for hand sewing more than machine because of the speed and detail needed when sewing with them.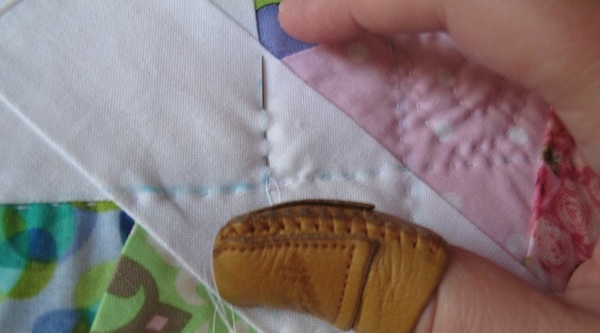 Conclusion
Either way, whether you are using a machine or quilting by hand, when choosing thread for quilting, you will want to check your pattern for suggestions. You should also consider the fabrics you are using and the type of quilt project you are sewing.

Most threads will work for quilting but the subtle details like sheen, elasticity, and care instructions could make or break your finished quilt design. A lot of the decisions you have to make are personal preferences, so give it some thought and do research before grabbing that next spool of thread.

 
Do you have a favorite type of thread?
Let us know in the comments!
Free projects, giveaways, exclusive partner offers, and more straight to your inbox!
Tags / Related Topics
Your Recently Viewed Projects
Images from other quilters


Something worth saving?
SAVE all your favorite patterns
ADD personal notes
QUICKLY reference your patterns