10 Delightful Dutch Quilt Patterns
Whether you are looking for modern or more traditional dutch quilt patterns, this collection is just what you need!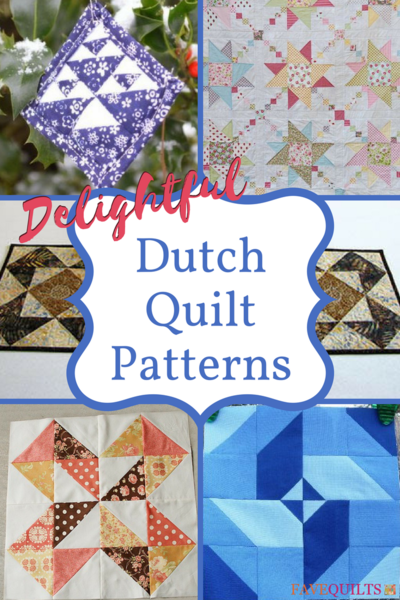 Looking for more inspiration for quilting? Take a little trip down to Amsterdam or the rest of the Netherlands when you make any of these Dutch patterns. Quilt designs have a rich history and the same goes for these Dutch themes. Inspired by the windmills and tulip fields found there, these patterns will remind you of the beautiful country that is the Netherlands.

This collection, 10 Delightful Dutch Quilt Patterns, features block patterns, quilts, ornaments, and more. Since the Dutch are Germanic, you will also find a few patterns inspired by Germany, too.

These are so pretty! From traditional Dutch quilt patterns to modern styles, you will never regret making a quilt inspired by the Netherlands. Have you ever seen a Dutch pinwheel quilt pattern or a Dutch puzzle? These beautiful designs are only a couple of the Dutch-specific patterns you will see.

There are images for every ornament, quilt block, and full quilt design in this list. We will continue to add new free patterns to this collection but there are already enough to get started and keep going. Take a look at these designs and see for yourself how many pretty projects you can quilt today.


PLUS! Learn how to make a Half Square Triangle Block by watching the video right below. Reminiscent of pinwheels, this block style may not be Dutch in origin, but it's certainly complementary in design to many of them.
 
Table of Contents
10 Dutch Quilt Patterns
You will love these free quilt blocks inspired by the Dutch as well as the ornament design and quilt pattern that will soften any room in the home.

You will notice the distinct look of geometric shapes pieced together to give the appearance of flowers, pinwheels, windmills, and other iconic Netherland themes.

Since all of the free Dutch patterns are pictured, you should have no trouble finding one to make quickly and easily. You may even find the next several months worth of quilts to make if this style fits your fancy.
 
Your Recently Viewed Projects